Hope's How-To: Build A Robin's Nest – Part 2 – The Robin's Eggs
Written by H, Posted in Christian Living, Gardening, Hope's How-To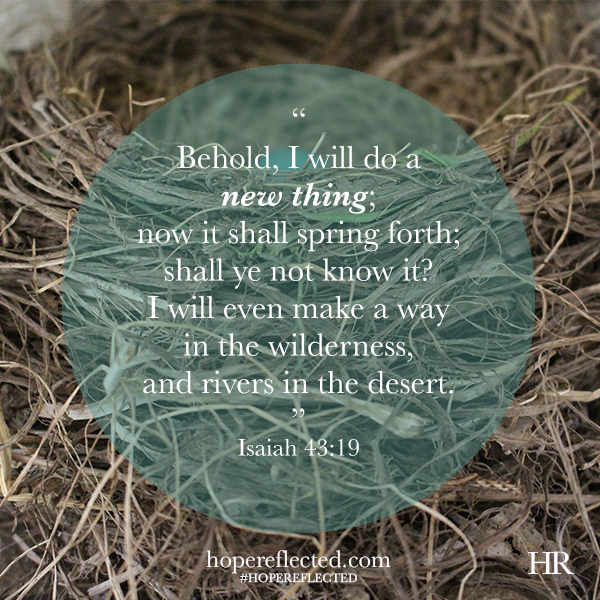 Robin's nest update for you all: The robin has laid two — count it, TWO — eggs! Yes, that's right! Robin's eggs! Yesterday afternoon, I noted whilst driving away from the house that the mama robin was in the nest. Sure enough, last night when we checked, you can imagine my delight upon the discovery of two beautiful robin's egg blue robin's eggs.
My initial exclamation was something about how exciting this promise of new life is; Wes's initial exclamation was about the future of the robin species. The robin deciding to lay her eggs is a beautiful example of a delicate, fragile new beginning, right on our porch. Whatever way you choose to look at it, we are  absolutely thrilled with the prospect of two baby robins starting their lives and learning the ropes from the comfort of our porch.
We are being careful not to be disruptive while the mama robin incubates and raises her young [although I have to say in hindsight I wish we'd set up a time lapse camera to capture all the action; note to self for next year].
Here are some fascinating facts about robins and their eggs:
The incubation period for a robin's egg is 12 to 14 days.
The female robin typically does the incubating, rarely leaving her eggs for more than 5 to 10 minutes at a time.
After birth, baby robins spend an average of 9 to 16 days in the nest.
Stay tuned for more action as we keep an eye on the mama robin and her young. Anyone else have robins planting roots in their yard this year?