Hope Reflected: Dealing with Disappointment
Written by H, Posted in Christian Living, Published Work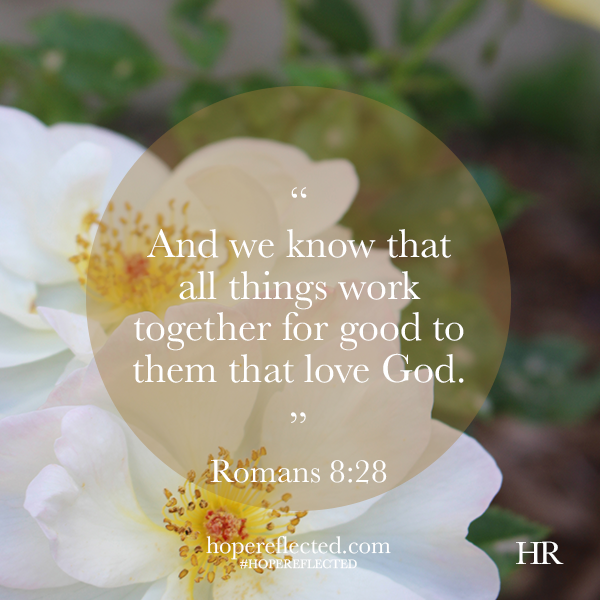 There will be some days when it rains (and sometimes it happens both literally and figuratively!). There will be some days when you'll forget that you left the oven on and you'll burn what could have been a delicious dinner. There will some days when people you thought couldn't let you down actually drop you or throw you under the bus. There will be some days when it seems like nothing is going right and everything is going wrong. Let's face it – there will always be some days.
Dealing with disappointment is a reality of life. Though some disappointments will be more harsh than others, throughout our lives, we'll all deal with several doses of the displeasure of disappointment. And that's not a bad thing – you wouldn't be human if once in a while you didn't experience disappointment.
My college pastor used to say that the key to getting over disappointment is not letting it hold you down. You can become bitter, or you can become better. Rather than dealing with your disappointment, you can let it consume you, zap your energy, and capture your thoughts. None of those are good things. We're always better dealing with disappointment head on. Sometimes – OK, most times – that's way easier to say than it is to live!
Before you think I'm getting all down on you, I'm writing this so you know that you're not alone if experience a day – or two, or three, or hey, maybe even an entire week, – of disappointment. Life happens to all of us! The key is in how we handle it.
The Bible talks a lot about dealing with disappointment, and today I'd like to share four verses with you, to encourage you through whatever you may be dealing with as you read this.
Psalm 42:11 "Why are you cast down, O my soul? And why are you disquieted within me? Hope in God; for I shall yet praise Him, the help of my countenance and my God." Matthew Henry once said, "The way to forget our miseries, is to remember the God of our mercies." Amen! I'd venture to say that David, who wrote Psalm 42, arguably experienced more disappointment throughout his adulthood than most of us will experience in a lifetime. He still chose, however, to put his hope in God.
Jeremiah 29:11 "For I know the thoughts that I think toward you, says the LORD, thoughts of peace and not of evil, to give you a future and a hope." We can rest assured that our Lord wants to give us a future and a hope, when we trust in Him. In his commentary about this verse, Matthew Poole says that our deliverance "will not depend upon your merits, but upon my [God's] own mercy and kind thoughts and purposes."
Romans 8:28 "And we know that all things work together for good to them that love God, to them who are the called according to his purpose." Again, if you think you've experienced disappointment, do some research into the life of Paul. Throughout his life, Paul faced many disappointments, and yet he still had an incredible faith in God. Note that Romans 8:28 says "all things work together for good". ALL things. Not just some things. Not just good things. ALL things. That includes disappointments.
Philippians 4:6-7 "Be anxious for nothing, but in every thing by prayer and supplication, with thanksgiving, let your requests be made known to God; and the peace of God, which surpasses all understanding, will guard your hearts and minds through Christ Jesus. Paul, who wrote the letter to the Philippians, once again provides sound advice. Even in disappointment, we shouldn't get anxious. We should in every thing – not just some things or good things or happy things – be praying and be thankful! That can be quite the challenge, because often when I'm disappointed the last thing I feel like doing is praying, let alone being thankful. But, we're encouraged to just that. We're also promised the peace of God when we do.
Like Paul said in Philippians 3:13-14, "this one thing I do, forgetting those things which are behind, and reaching forth unto those things which are before, I press toward the mark for the prize of the high calling of God in Christ Jesus." If you've experienced some disappointment the past week, you're not alone. Choose to get better not to get bitter, and you'll find dealing with disappointment is actually an opportunity to grow.
Originally published as "Dealing with Disappointment." Minto Express, Arthur Enterprise-News, Independent Plus. September 28, 2016: 5. Print.