Encouragement: Ecclesiastes 3:11
Written by H, Posted in Christian Living, Encouragement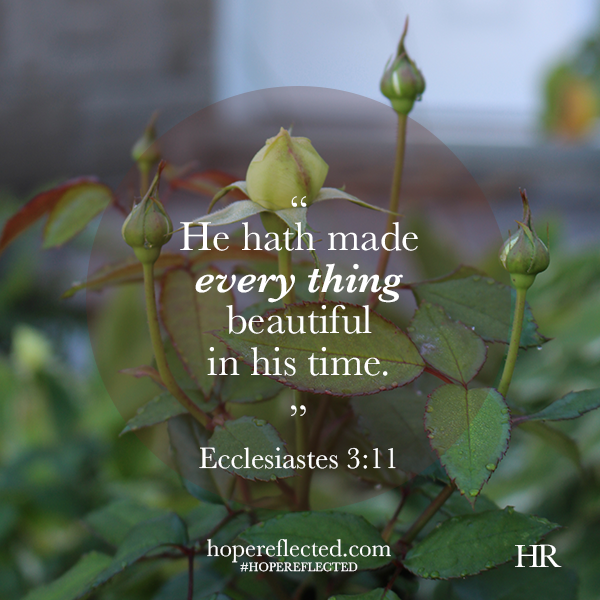 "He hath made every thing beautiful in his time: also he hath set the world in their heart, so that no man can find out the work that God maketh from the beginning to the end." Ecclesiastes 3:11
There are so many truths throughout the book of Ecclesiastes, and Ecclesiastes 3:11 is a great reminder of God's perfect timing. So often in life, we put a plan in motion for exactly how we want and envision things to work out. We think we've got things figured out, like we know what's best for our future.
It's very easy to forget that God's perfect timing for our lives can turn out to be completely different from what we imagine as being right. In Isaiah 55:8-9, we're told, "For my thoughts are not your thoughts, neither are your ways my ways, saith the LORD. For as the heavens are higher than the earth, so are my ways higher than your ways, and my thoughts than your thoughts." Our thoughts and ways are usually very different from our Lord's, aren't they? I also really like how Ecclesiastes 11:5 talks about the wonders of God: "Just as you do not know the path of the wind, or how the body is formed in a mother's womb, so you cannot understand the work of God, the Maker of all things."
How many times have you been in a situation, and anticipated how circumstances would work out, as though you were in control? How many times do you think that you're the one who's in control, that you can climb that mountain with your own strength, that you can change someone's heart through your own actions? The reality is, God is in control, and it's only through Him that we accomplish anything at all!
In Matthew Henry's commentary, he says the following about Ecclesiastes 3:11: "Every thing is as God made it; not as it appears to us. We have the world so much in our hearts, are so taken up with thoughts and cares of worldly things, that we have neither time nor spirit to see God's hand in them. The world has not only gained possession of the heart, but has formed thoughts against the beauty of God's works."
When I find myself getting impatient or experiencing disappointment, or when things don't work out as I think they should, it's a great reminder to look at verses such as Ecclesiastes 3:11 about God's perfect timing. It may not make sense right now, but God's got a reason. Our task, like Job, is to continue praising Him even when things don't make sense, and to continue trusting Him and growing our Faith. "Who does great and unsearchable things, Wonders without number." [Job 5:9] Job experienced more testing circumstances and situations throughout his life, and yet he never once questioned what God was doing. He knew that God had a plan and would work every thing out in His timing.
Wherever you are today, whether waiting, wondering, or worrying, take heart. God's perfect timing is worth the wait! God is in control, and He hath made every thing beautiful in His time.
"He hath made every thing beautiful in his time: also he hath set the world in their heart, so that no man can find out the work that God maketh from the beginning to the end." Ecclesiastes 3:11