Hope Reflected: 3 Facts About Patience
Written by H, Posted in Christian Living, Hope's How-To, Published Work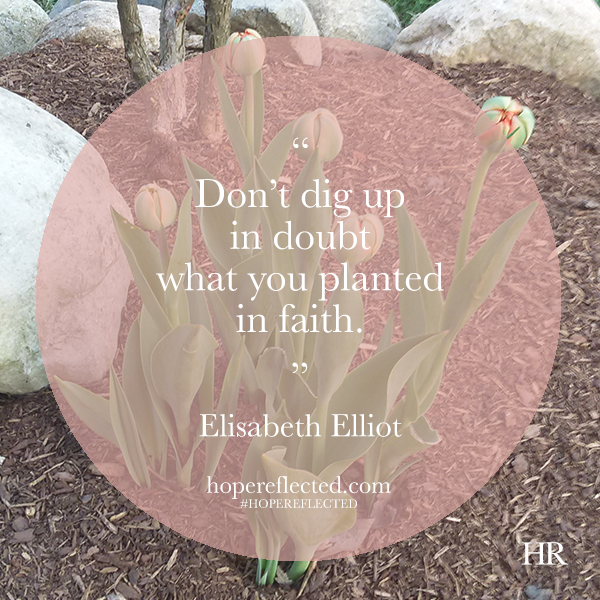 When I told Wes that I was writing this week on the subject of patience he lovingly replied, "Did you say impatience?" I think he meant it jokingly, but the fact that he kept chuckling about it after he said it makes me wonder….
This column about patience was partially inspired by our weekly drive to church on Sunday mornings. Without fail, Wes and I always witness drivers, – evidently in a rush, – headed somewhere, speeding like bats of you-know-where, passing every vehicle in their path. Now, I'd be lying if I said I never speed or never pass, but the irony is when we witness this on a Sunday (especially if the driver speeding and passing is headed to church) or if we end up right behind said driver at the next set of lights. Today on the road was no different; there was someone out there speeding, but today, the driver passing got pulled over. Which begs the question, why the rush?
Well, it's easy to get caught up in the rush of the everyday. Who can blame people? Information is available instantly through the Internet, large purchases can be put on credit, and there's a drive through for just about anything you can think of. In a world like we live in today, who needs patience?
Patience is definitely an under-rated virtue in today's fast-paced world, but that doesn't mean it's not important. Leo Tolstoy once said, "The most powerful warriors are patience and time," and he was right. While it's often easier to take the quick road out, planting a seed and watching it grow – whether you're buying a new home, pursuing a career, or even looking for love – requires both patience and time.
So what does the Bible say regarding the topic of patience? Here are 3 requirements of patience that God's Word teaches us:
Patience requires us to rest. "Rest in the LORD, and wait patiently for him:" (Psalm 37:7) It's ironic, isn't it, that when we're waiting for something, we often feel anxious or restless, but then the Bible instructs us to do the exact opposite, so there must be a reason, right? To put in context, David wrote Psalm 37 later in life, and if you know about David's life, you know he had plenty of occasions to learn how to properly practice the virtue of patience. David knew what he was talking about when he instructed readers to "rest in the LORD."
Patience requires us to establish our hearts. "You also be patient. Establish your hearts, for the coming of the Lord is at hand." (James 5:8) In verse 7, James instructs readers to be patient like the farmer who waits for the fruits of the earth. Farmers have some of the most stressful careers out there, which we all depend on! By definition, the word establish means to "set up on a firm or a permanent basis." We all need a firm foundation, and the most important place is in our heart. If you don't know Who you believe in, or what you stand for, you're in for a bumpy ride. Patience requires us to examine our hearts, and further establish our Faith.
Patience requires us to be humble. "Be completely humble and gentle; be patient, bearing with one another in love." (Ephesians 4:2) Exercising patience, true patience, means that some of the following characteristics are going to be brought out in us: Humbleness, gentleness, meekness, forgiveness. You can't be patient without exercising the aforementioned characteristics. True patience helps us become more like Christ.
It may not always be easy – in fact, sometimes exercising patience will be the hardest thing, — but practicing patience is worth the wait (quite literally). If you're feeling discouraged or like you can't go on, take heart! As missionary Elisabeth Elliot famously said, "Don't dig up in doubt what you planted in faith." Patience can be accomplished, one day at a time.
Originally published "3 Facts About Patience." Minto Express. May 18, 2016: 5. Print.