Hope Reflected: Attributes of God, Part 1
Written by H, Posted in Christian Living, Published Work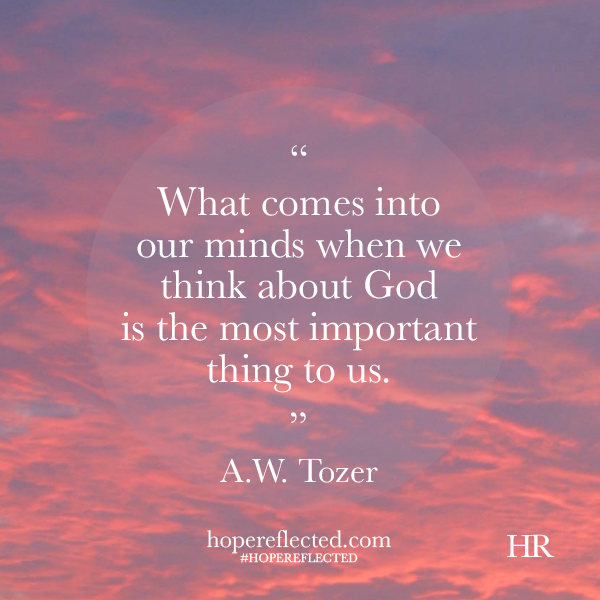 A.W. Tozer once said, "What comes into our minds when we think about God is the most important thing to us." While I've yet to read all of Tozer's Knowledge of the Holy, that quote really resonated with me. It's true; how we think about God determines our measure of worship. This past Sunday at church, the speaker was talking about different attributes of God that we should recognize and acknowledge in our lives that will help to alleviate anxiety and create a more whole mindset in us. The way we think about God influences the way we go through life. Too often we get caught up in the day-to-day, worrying about tomorrow or our circumstances or other things here on Earth, when the reality is that we were put here on Earth to influence others for eternity.
There are several attributes of God found throughout scripture, however today I'd like to focus on three that have truly impacted my life:
God is faithful. Psalm 86:5 tells us, "For thou, Lord, art good, and ready to forgive; and plenteous in mercy unto all them that call upon thee." So many times throughout the Bible, we are shown examples of God's faithfulness to those who trust in Him. A very realistic way to recall God's faithfulness is to keep a journal of prayer requests and answers. Wes and I recently went through the first prayer list we ever made together, and it is incredible just how many of our prayers were answered specifically, and not just answered, answered exceedingly abundantly above all that we could have asked or thought. God is faithful! All we have to do is trust Him and commit our way to Him! "It is of the LORD's mercies that we are not consumed, because his compassions fail not. They are new every morning: great is thy faithfulness." (Lamentations 3:22-23)
God is love. Not just loving, God is love. And I think we'd all agree that in this world in which we live, each of us could use more love. John wrote in his epistle of 1 John 4:8, "He that loveth not knoweth not God; for God is love." We read a deeper definition of love in 1 Corinthians 13. Frequently referenced at weddings, the "love chapter" of the Bible was written by the apostle Paul. [For a fascinating history of the books of Corinthians and when Paul wrote them, check out Matthew Henry's Commentary.] The King James Version of 1 Corinthians 13 refers to 'love' as 'charity'. It was originally translated from the Greek word, αγαπη (agapē), or in Latin, "caritas", which means 'Christian love'. We are told in 1 Corinthians 13 that love, or charity, never fails. That's God. He will not and cannot fail. When we trust in Him, that's a promise. We are also reminded in Galatians 5:22 that love is one of the fruits of the Spirit; if we love God, we will live in love, joy, peace, gentleness, faith, etc.
God is merciful. This attribute in particular is a great reminder to me. God loves me and has forgiven me, and sent His Son to die on the cross for my sins. I haven't got what I deserve because I serve a risen Lord who, among other awesome attributes, is merciful. Psalm 103:8 says, "The LORD is merciful and gracious, slow to anger, and plenteous in mercy." Notice anything in particular about that verse? God's mercy is so strong that it merits two mentions. Often confused with grace, mercy pardons sin (whereas grace grants favour). God is plenteous in mercy; He has mercy enough to cleanse the sins of the world, should we choose to trust Him. We are promised in Isaiah 55:7 that if we forsake our sinful ways, and return to the LORD, "…he will have mercy upon him; and to our God, for he will abundantly pardon." I love this quote from Arthur W. Pink: "He foresaw my every fall, my every sin, my every backsliding; yet, nevertheless, fixed His heart upon me."
These are merely three of God's amazing attributes. God's demonstration of His faithfulness, love, and mercy in my life have molded me into who I am, and without God's faithfulness, love, and mercy, I can't imagine where I might be today. God's attributes are parts of His character that help us to really understand Who He is. The truth is, we'll never understand them all, but we can observe what the Bible tells us about Who God is, and believe it, and be encouraged.
Originally published as "Attributes of God, Part 1." Minto Express. July 27, 2016: 5. Print.