Hope Reflected | 5 things to remember for whatever you're going through
Written by H, Posted in Christian Living, Published Work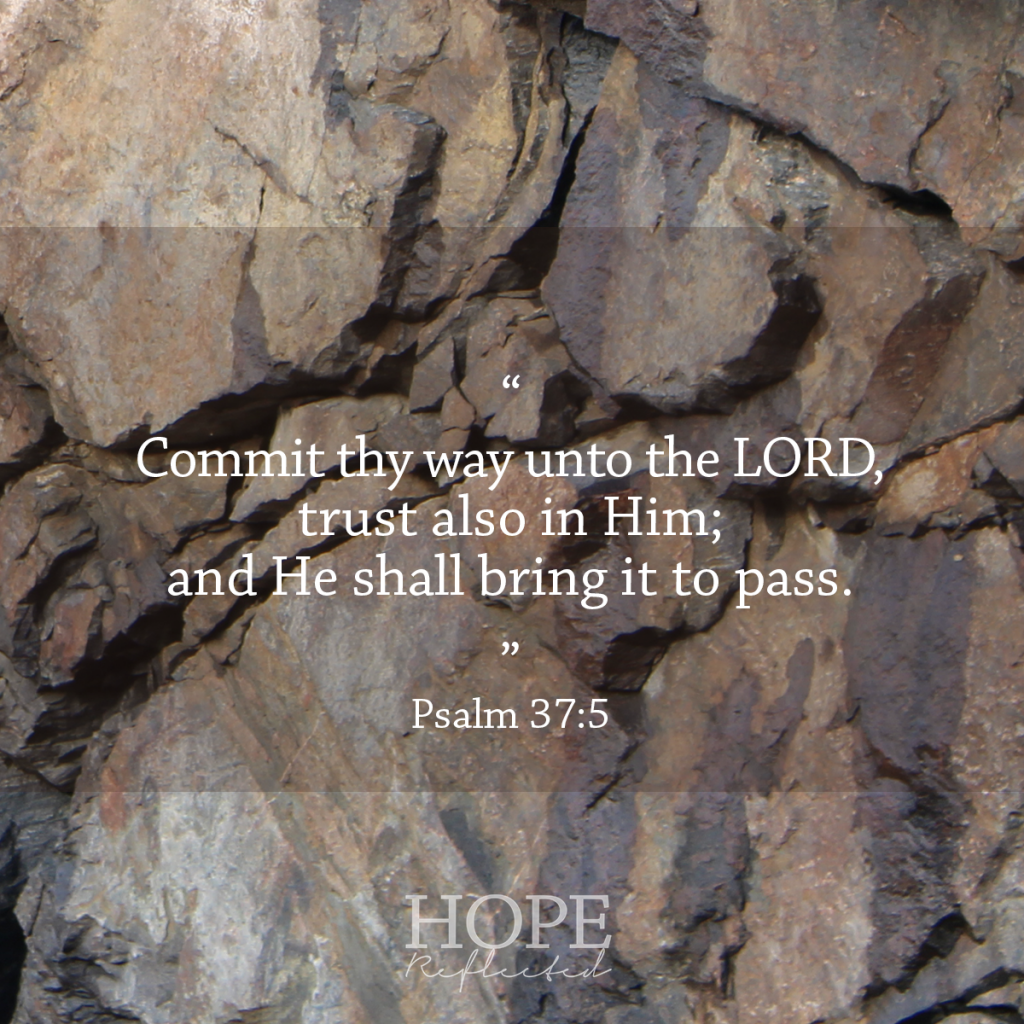 Commit thy way unto the Lord: 5 things to remember for whatever you're going through
David's advice in Psalm 37 is wisdom that we should all remember.
David, often referred to as a man after God's own heart, led nothing short of an adventurous life. Equal parts heartache and heart-warming, the Bible gives a detailed account of David's life from his humble beginnings as a Shepherd boy to a battle-worn King who conquered many nations.
If you're familiar with David's history, you know that he killed a giant named Goliath, he was chosen to be king, he was a gifted musician, he was a poet, he was a bit of a lady's man, he had his lover's husband killed, as a result he lost his child, he was Solomon's father, and he conquered many nations. David lived a colourful life. He went through many things from which we can learn.
David wrote Psalm 37 near the end of his life, so you can be sure that the wisdom he shares in this Psalm come from experience. If you're anxious or if you need encouragement, here are 5 things to remember for whatever you're going through:
Fret not. "Fret not thyself because of evildoers, neither be thou envious against the workers of iniquity." (Psalm 37:1) Fretting, also known as being anxious, worried, concerned, overly analytical, or upset, is something that's common to all of us! This notion of "fret not" is so important that David mentions it not just once, not just twice, but three times in Psalm 37. "Fret not thyself because of evildoers", "fret not thyself because of him who prospers in his way", "fret not thyself in any wise to do evil". Notice the similarities? Usually our fretting is related to other people. David advises that we shouldn't worry about those people who do evil, or those who are prosperous, or be envious or concerned about what other people are doing.
Trust in the Lord. "Trust in the LORD, and do good, so shalt thou dwell in the land, and verily thou shalt be fed." (Psalm 37:3) Trusting in the Lord can be very difficult, especially when you only have enough light for where you're standing and you can't see the path ahead. Our faith isn't built on something we can physically see per se. But when you purpose to put your trust in the Lord, He promises that He will direct your path (Proverbs 3:5-6).
Delight yourself in the Lord. "Delight yourself also in the Lord; and he shall give thee the desires of thine heart." (Psalm 37: 4) Delight, joy, take pleasure in the Lord. We're promised in God's Word that when we make Him our delight, He will give us the desires of our heart. "Then you shall delight yourself in the LORD; and I will cause you to ride on the high hills of the earth, and feed you with the heritage of Jacob." (Isaiah 58:14). When you find your fulfillment in Christ, when you choose to keep your eyes on Him, when you take the time to delve into His Word, and when you make Him the centre of your life, that is delighting in the Lord.
Commit it to God. "Commit thy way unto the LORD; trust also in him, and he shall bring it to pass." (Psalm 37:5) How often are each of us guilty of making plans for the future without first seeking the Lord? When you commit your way to God (i.e., praying in advance about big and little decisions and life choices), and when you put your trust in Him, He shall bring it to pass. Does it mean that God will always work things out exactly how you want? No! Sometimes things will not go as you expect. Sometimes you'll feel like God's not answering your prayers. And sometimes, when you ask for A, B, or C, God will exceed your expectations and give you the entire alphabet (as Charles Stanley says).
Rest in the Lord, and wait patiently for Him. "Rest in the LORD, and wait patiently for him." (Psalm 37:7) Rest and patience. So often the two go hand in hand. We are able to rest when we learn the virtue of patience, and we are able to be patient when we resolve to rest. When you choose to rest in the Lord and wait patiently for Him, you can rest assured that He will act with your best interest in mind. "It is good to wait quietly for the salvation of the Lord," (Lamentations 3:26). You've likely heard the quote that it takes 6 months to build a Rolls Royce and only 13 hours to build a Toyota. The difference between "good" and God's best for your life is patience.
American blues guitarist B.B. King once said that, "the beautiful thing about learning is that no one can take it away from you." When David wrote Psalm 37, he had lived and learned throughout his often-challenging life. And yet, at the end of it all, David still claimed God as his buckler, his rock, and his power. You can avoid a lot of heartache by taking the advice of those who've gone before you, and David's advice in Psalm 37 is wisdom that we should all remember.
Originally published as "5 things to remember for whatever you're going through." Minto Express, Independent Plus, Arthur Enterprise-News, Mount Forest Confederate. April 5, 2018: 6. Print. Web.