Hope Reflected | Don't grow weary in well doing
Written by H, Posted in Christian Living, Published Work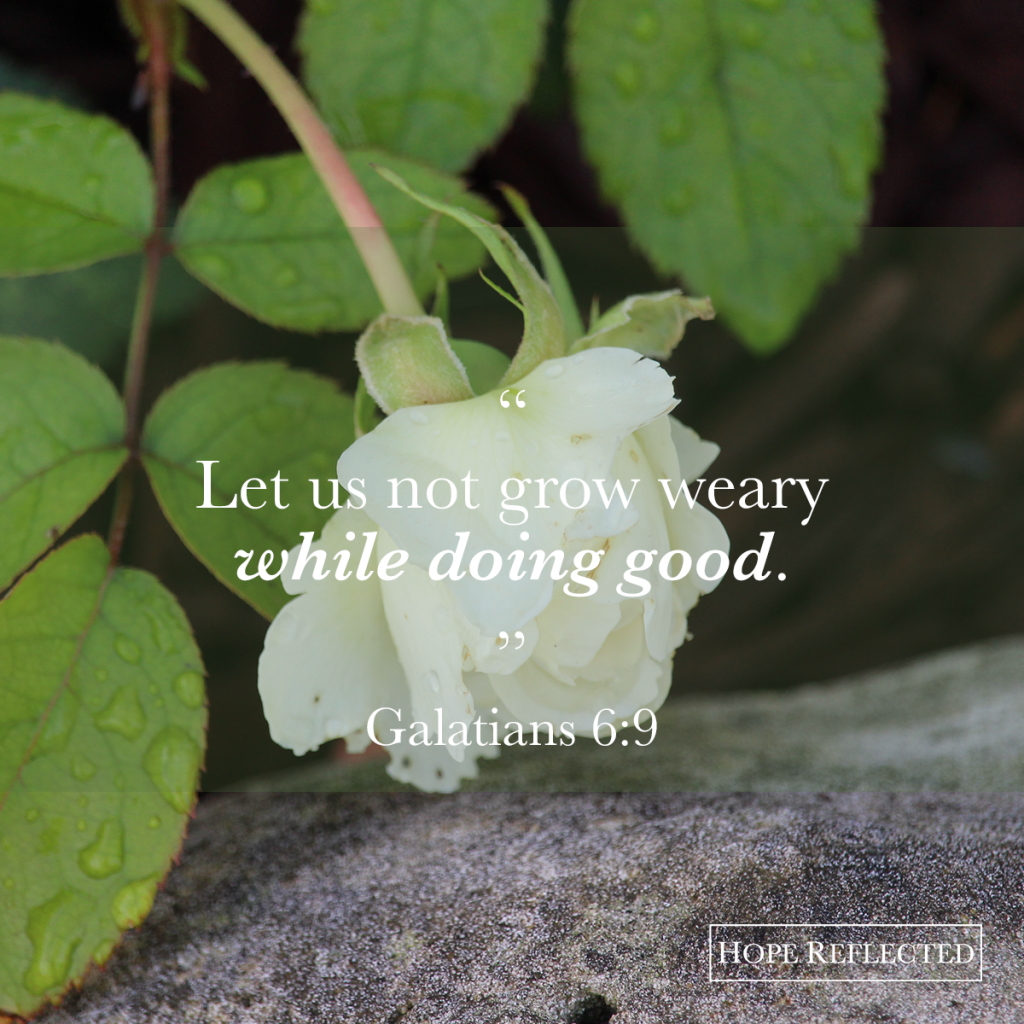 Don't grow weary in well doing
"And let us not grow weary while doing good, for in due season we shall reap if we do not lose heart." (Galatians 6:9) Sometimes I get weary. Do you ever feel like you just can't do anything right? That no matter what you do, there's always going to be someone right there, ready to criticize you and cut you down? I'm right there with you. And you know what? It can be wearying, can't it? Sometimes I wonder what exactly Paul was going through when he wrote those words in Galatians. It's not lost on me how even 2,000ish years ago, the struggle was real.
Weariness. It sure has a way of creeping up on you, doesn't it? When you're doing the best you can, and you're coming up against criticisms and chastisements, weariness seems like a natural reaction. I mean, who, doing their best, wants to continue on when they're only met with adversity?
What the apostle Paul wrote in Galatians however, is true. We aren't to grow weary while doing good. Even when we think there's no point, or we're not being recognized or appreciated how we think we ought to be, we're still supposed to keep doing good and to not lose heart. If you know anything about the life of the apostle Paul, you know he didn't have it easy. He was trying his best, and he was beaten, bruised, jailed, and persecuted. The ironic thing is, that Galatians was the first epistle he ever wrote – can you imagine how he was feeling when he got to writing books 12 and 13?!
There are many areas in our lives where we should not grow weary while doing good.
Serving others. "And let us consider one another in order to stir up love and good works." (Hebrews 10:24) It's not always easy to work with others, especially those who have… difficult personalities. A good thing to remember is that there will always be that person who always has to be right, who always wants to be involved, or who always wants to be in control. As hard as it can be, sometimes you've just gotta run with it. Accept others. Eat humble pie. I am really speaking to myself, here. When everything in me wants to retaliate, sometimes the best course of action is no action at all. Rather, focus on the Lord and at the task at hand. After all, we're told in Proverbs 25:21-22, when we work to serve others, even those who are against us, "you will heap coals of fire on his head, and the LORD will reward you."
Working diligently. "Whatever you do, work at it with all your heart, as working for the Lord, not unto men." (Colossians 3:23) Perhaps you're working in a factory where you think you're nothing more than a number. Maybe you're serving in a position that is less than glamorous and you long to be recognized. Whatever the case may be, remember that no matter your job here on earth, God sees you, and He sees your heart and how you serve. If you're feeling discouraged, keep in mind that ultimately we're to work for His glory.
Regardless of where you're at in your Christian walk, there are many areas in each of our lives where we need to stay strong, keep the faith, and not grow weary while doing good. Whether your weariness is in your personal or professional life, God has a plan. Don't underestimate how He can use even the most "ordinary" of circumstances and people to do something extraordinary. As the controversial artist Banksy said, "If you get tired, learn to rest and not to quit." And if you catch yourself getting tired, remember that in 1 Thessalonians 5:14-15 we're told that we should, "admonish the idle, encourage the fainthearted, help the weak, be patient with them all. See that no one repays evil for evil, but always seek to do good to one another and to everyone." Ultimately, how we live our lives here on earth will affect our eternity. Who and what are you living for? Come unto Jesus, and He will give you rest!
Originally published as "Don't grow weary in well doing." Minto Express, Independent Plus, Arthur Enterprise-News, Mount Forest Confederate. September 28, 2017: 7. Print. Web.