Encouragement | Colossians 3:2
Written by H, Posted in Christian Living, Encouragement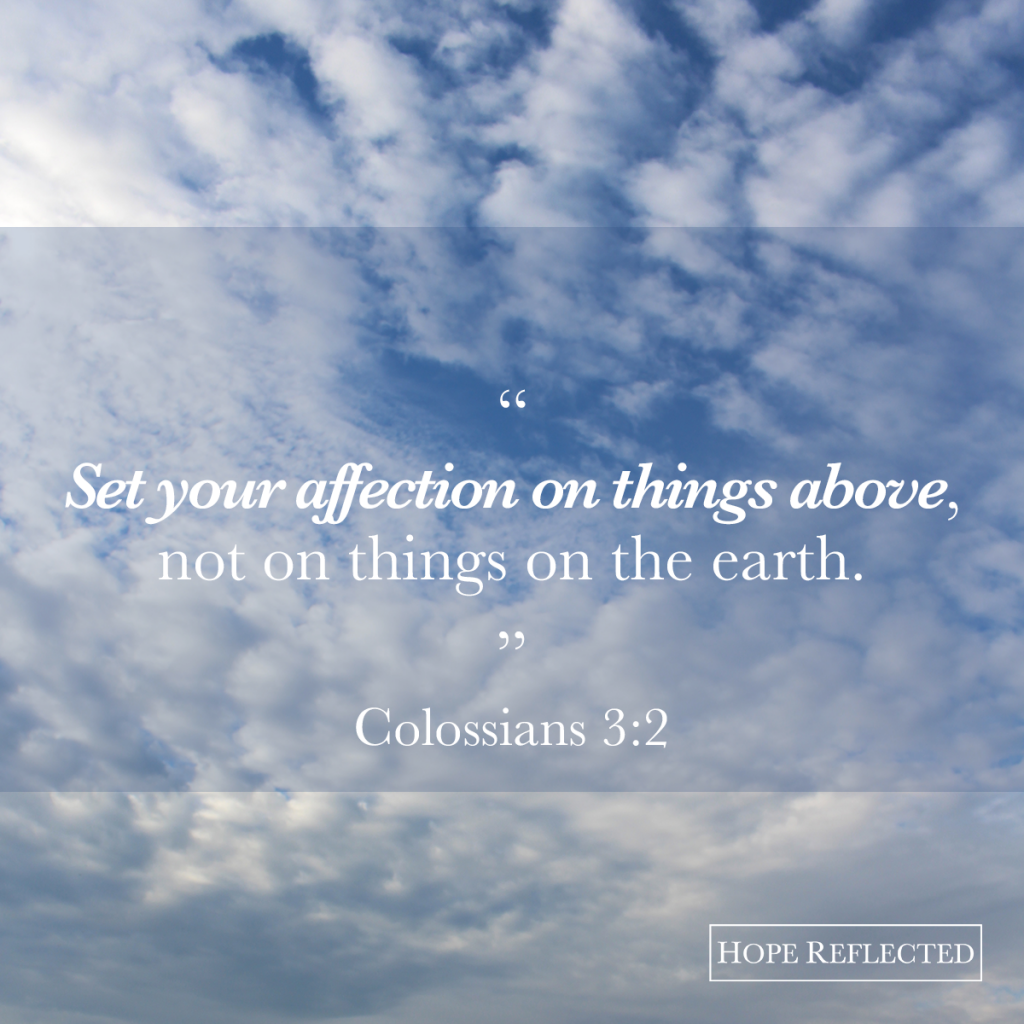 "Set your affection on things above, not on things on the earth." Colossians 3:2
In the midst of life, where our focus so often is set on the day-to-day grind of life, our careers, our families, our friends, and our own dreams and goals, it can be hard to retrain our thoughts to the heavens and to the One who created us.
We're told in Colossians 3:2 to set our affection on things above, not on things on earth. Our affection — that feeling of fondness or love — is to be set on things above. So what does that really mean? Does it mean that we're wrong for pursuing success here on earth? I don't think so, but I do believe that it means we are to live with eternity in mind.
How often are each one of us guilty of concentrating on the here and now, and what's best for us in this lifetime? It's like when Jesus said to Peter, "you do not have in mind the things of God, but the things of men." (Matthew 16:23)  I don't know about you, but quite often in the hustle of the everyday, I'm guilty of not having the things of God in my mind.
While there's nothing wrong with doing well for ourselves here on earth, ultimately we need to remember that we brought nothing into this world, and we're not taking anything with us when we leave! As Christians, our citizenship is in heaven (Philippians 3:20). The empire you build for yourself here on earth won't matter in light of eternity.
Matthew 6:19-21 puts it like this: "Do not lay up for yourselves treasures on earth, where moth and rust destroy and where thieves break in and steal; but lay up for yourselves treasures in heaven, where neither moth nor rust destroys and where thieves do not break in and steal. For where your treasures is, there your heart will be also."
We tend to focus where we spend the most time. That's why it's so important to get into God's Word, to memorize scripture, to spend time in prayer everyday. Multiple times a day if we're able. Ask God to centre your focus on Him. Purposefully recite your favourite verses from the Bible. Actively praise the Lord for His goodness to us — after all, His mercies are new every morning so there's always something for which to worship Him!
"Set your affection on things above, not on things on the earth." Colossians 3:2