Written by H, Posted in Christian Living, Published Work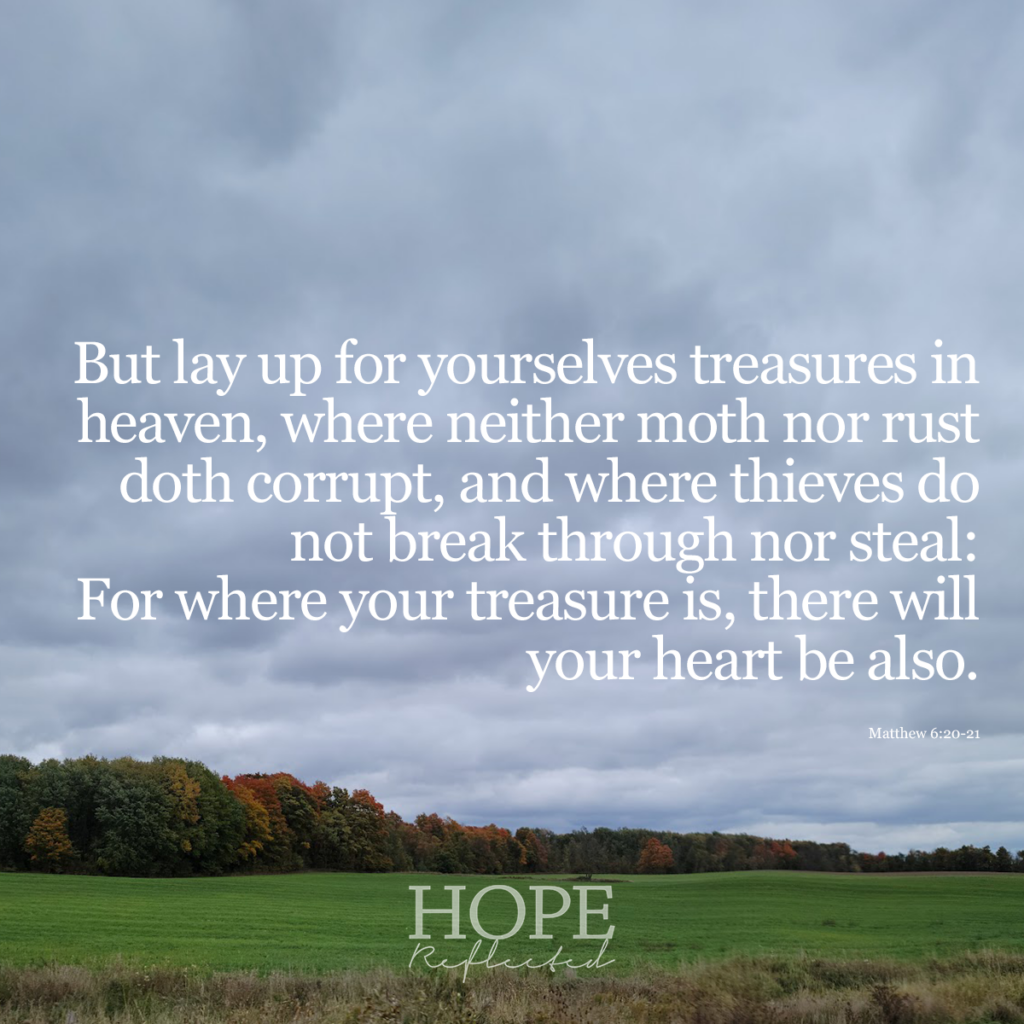 "Lay not up for yourselves treasures upon earth, where moth and rust doth corrupt, and where thieves break through and steal: But lay up for yourselves treasures in heaven, where neither moth nor rust doth corrupt, and where thieves do not break through nor steal: For where your treasure is, there will your heart be also." (Matthew 6:19-21).
At the time when Jesus shared this, houses were mostly made from clay and dirt, making them pretty easy for thieves to break in. People had to take special care of their possessions to protect them, including burying treasures in the earth so that they were harder to find. Contact with dirt meant that valuables corroded more easily.
Where to put our focus
In this parable, Jesus isn't telling us that it's sinful to have money, or that we shouldn't save for the future, or that it's wrong for us to own more than one change of clothes, or that we are materialistic if we have an appreciation for nice things. What Jesus is telling us in this parable is that laying up treasures on this earth should not be our primary focus – we ought rather to put our focus on laying up treasures in heaven.
Matthew Henry wrote that, "Christ counsels to make our best things the joys and glories of the other world, those things not seen which are eternal, and to place our happiness in them." The point of the parable is this; a life that is centred on earthly position and possessions is pointless. Only a life centred on Christ holds true, eternal value.
So how do we lay up treasures in heaven while we're here on earth?
We lay up treasures in heaven through wise investments. As Christians, we are responsible to tithe (not only to the church but also to the organizations that are doing Kingdom work). We are called to be "given to hospitality" (Romans 12:13) by being welcoming and generous towards others, and because we have His certain Hope, we should live accordingly so that others through us see Christ and come to know Him.
Finite vs. Infinite
Paul wrote in 1 Timothy 6:17, we are not to "trust in uncertain riches, but in the living God, who giveth us richly all things to enjoy;". We may have earthly riches, but if we aren't good stewards of our earthly riches, we won't appreciate or be grateful for all that God has blessed us with. Earthly riches are finite if we are only enjoying them and not also investing them for eternity.
Attributed to Solomon, who was the wisest and richest man of his day, Proverbs 23:5 asks, "Wilt thou set thine eyes upon that which is not? For riches certainly make themselves wings; they fly away as an eagle toward heaven." As C.S. Lewis wrote in Mere Christianity, "the only things we can keep are the things that we freely give to God." While corrosion of our earthly possessions is inevitable, conservation of heavenly treasures is possible.
Anyone can lay up treasures on earth that they can't keep, it takes real wisdom to lay up eternal treasures that you can't lose.
Originally published as "Wise investments." Independent Plus. February 24, 2022: 5. Print. Web.