Hope Reflected | The power of the tongue
Written by H, Posted in Christian Living, Published Work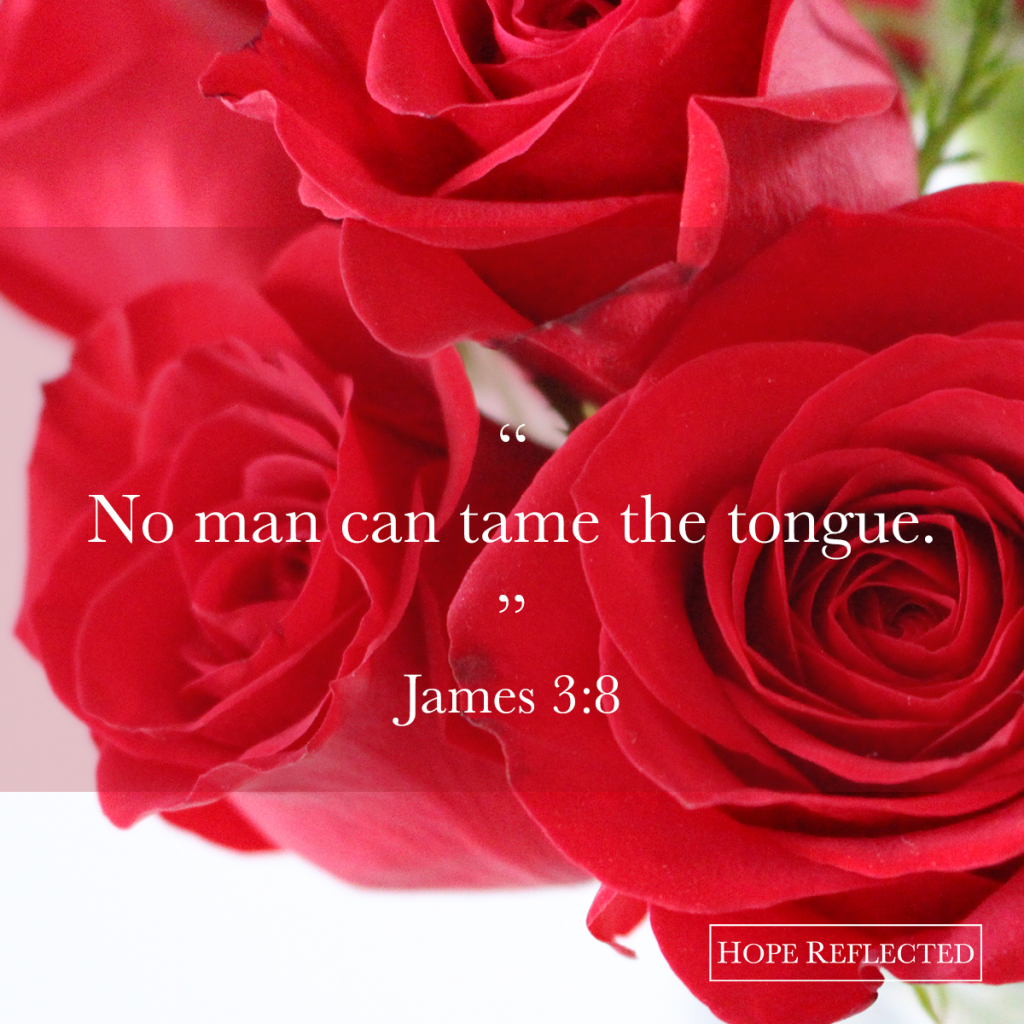 The power of the tongue
One thing that we all have in common is that at some point or another, each one of us, – inevitably, – is going to say something we don't mean. You may make a comment in the middle of an argument, or maybe it will be something you say behind someone's back, or perhaps you'll speak words to someone that just don't come out right. Or, as Wes experienced this past week, you may say something about a complete stranger that you instantly regret. The tongue. At some point in each one of our lives, our tongues are going to hurt someone else and cause us trouble.
The problem with the tongue is that once you say something, you can't take it back. James 3:5 tells us, "Even so the tongue is a little member and boasts great things. See how great a forest a little fire kindles!" We all need to learn how to guard our tongues and watch our mouths.
There's the old saying that goes, "God gave us mouths that close and ears that don't so that should tell us something." It's so true, isn't it? How often we speak words in haste when really we should be just as quick to listen. I write that quickly, like it's no big deal and easy to do, when the reality is more often than not quite different. I struggle at least a couple of times a day to listen when everything in me wants to interrupt. It's like, sometimes when someone else is speaking and telling me something, the time I should be spending listening to them, I'm actually formulating my response to them in my head. That's not right. We are called to be "quick to hear, slow to speak, slow to wrath." (James 1:19) Don't underestimate the power of the tongue.
Once you say it, you can't take it back. "There is one who speaks like the piercings of a sword, but the tongue of the wise promotes health." (Proverbs 12:18) Like the toothpaste leaving the tube analogy, once you speak words, you can't "un-speak" them. That's why it's so important to consider our words before saying them aloud.
Actions speak louder than words. "Let us not love in word or in tongue, but in deed and in truth." (1 John 3:18) There's the saying that goes, "You can preach a better sermon with your life than with your lips." The way you live is just – or more – important than the words you speak. There is no such thing as a part-time Christian. Living a life that is pleasing to God happens every day of the week, every where, – whether you're in the barn or in the office, – authentic Christian living does not just happen on Sundays while you're in church.
Take a step back; give it some time. "He who guards his mouth preserves his life, but he who opens wide his lips shall have destruction." (Proverbs 13:3) If you're anything like me, sometimes you just need to take a step back before you react. I've learned the hard way – and learned several times, actually – that in the heat of the moment is the wrong time to hit the 'send' button on that reactive email or to say something out of spite. Usually, the best practice is just to sleep on it. Give yourself some time to cool off before you answer anyone in a heated tone. "Even a fool is counted wise when he holds his peace." (Proverbs 17:28)
It's never too late to apologize and ask forgiveness. "'Yet even now,' declares the LORD, 'Return to Me with all your heart." (Joel 2:12) In earthly terms, words can be forgiven but not forgotten. But God, when we truly repent, He forgives and God has the ability to wash our slate clean and make us white as snow. If we're truly reflecting a life lived for Him, we'll seek forgiveness to those we've wronged through our words (and our actions). It's never too late to seek forgiveness, and you might be surprised how well received a sincere apology will be.
Proverbs 18:21 reminds us that "death and life are in the power of the tongue, and those who love it will eat its fruit." James 3:7-8 shares that "For every kind of beast and bird, of reptile and creature of the sea, is tamed and has been tamed by mankind. But no man can tame the tongue." It may be small, but the tongue is a mighty weapon. May each of our words speak love and truth.
Originally published as "The power of the tongue." Minto Express, Independent Plus, Arthur Enterprise-News, Mount Forest Confederate. March 9, 2017: 8. Print.