Hope Reflected | The Rock
Written by H, Posted in Christian Living, Published Work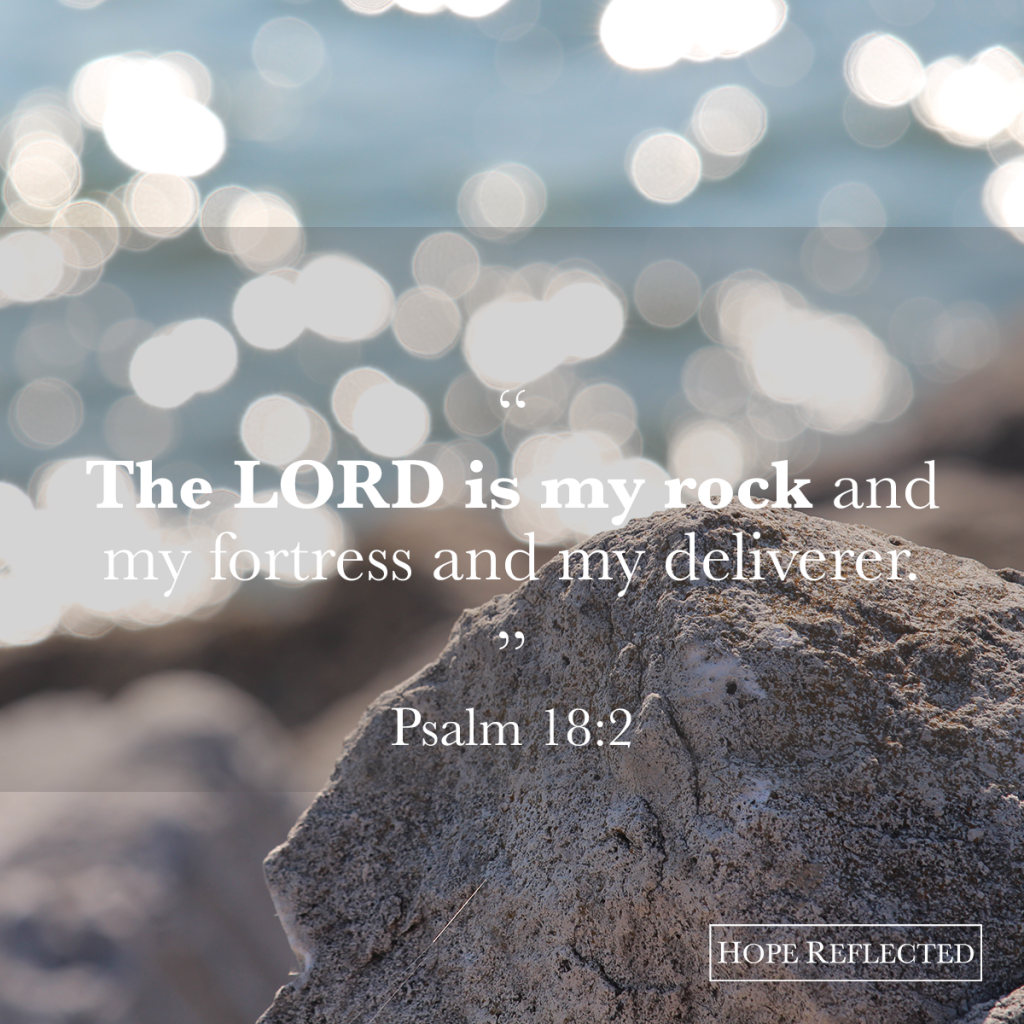 The Rock
While reading in the Psalms this week, one word really stood out to me in Psalm 92:15. The word is rock. "To declare that the LORD is upright; He is my rock, and there is no unrighteousness in Him." Throughout the Psalms, God is referred to as a "rock" more than twenty times. This tells me that there is something incredibly significant about the fact that God is our rock.
Being married to a stone mason, and also having several masons on both sides of our family, it didn't take long for me to understand the value and impact that a well-shaped rock can make.
More than any rock in its earthly form, when I think about God as our rock, I'm not sure it's possible to fully comprehend the power of this fact. As Christians, it's so easy to become de-sensitized to our all access pass to the Creator of the entire Universe and the fact that although we are but dust, He cares about each one of us.
Psalm 18:2 says, "The LORD is my rock and my fortress and my deliverer; My God, my strength, in whom I will trust; my shield and the horn of my salvation, my stronghold." The LORD is my rock. When I think about God being my rock, there are a few illustrations that come to mind.
God is our firm foundation. "Therefore whoever hears these sayings of Mine, and does them, I will liken him to a wise man who built his house on the rock." (Matthew 7:24) Just as you can't build a house without a firm foundation, you can't live a Christian life without a firm foundation, either. Knowing God as our rock means that we have a firm foundation on which to build our faith. 1 Timothy 6:19 says that those who know God as their rock are "storing up for themselves the treasure of a good foundation for the future, so that they may take hold of that which is life indeed." (1 Timothy 6:19) What do you base your life on? Do you measure success by the amount of money you make? Do you count yourself "lucky" if you have a healthy family here on earth? Do you have it all if you have some who loves you? The only true firm foundation is God – when God is your foundation, no matter what your earthly circumstances, you've got a rock that will never change. He will always love you, no matter what.
God is our protection. "But the Lord is faithful, and He will strengthen you and protect you." (2 Thessalonians 3:3) What are you seeking refuge from in your life? Are you having a hard time with another individual? Are you being bullied at school? Maybe you're feeling overwhelmed with the daily grind. Wherever this life finds you, God can be your protection if you put your trust in Him. Does that mean when you become a Christian that you're suddenly exempt from any problems in life? No, sorry to disappoint you, you're actually more likely to encounter hardships and persecution when you live a Christ-filled life. What it does mean is that God is your protection through whatever you're facing. Just as a rock protects the land from the water when it's used in a jetty, or solid stones are used to build a fortress, God will protect you from whatever you fear. God will be your "strength and shield." (Psalm 28: 7)
God is our strength. "I can do all things through Christ who strengthens me." (Philippians 4:13) Several years ago for my birthday, my friend Jess gifted me a mug inscribed with Philippians 4:13. The mug top sits on my desk to this day as a reminder that regardless of what the day brings, God is my strength. If you're tired, if you wake up thinking you just can't go on, call out to God. He will give you the strength you need to proceed. If you're facing difficult decisions, or if you're feeling emotionally and/or physically exhausted, God will sustain you in ways that you cannot even fathom (spoken from experience). Isaiah 40:29 says that "He gives strength to the weary and increases the power of the weak." Let's be honest, some days it's hard to get out of bed, isn't it? Try starting the day by conversing with God and asking Him to be your strength. Think on God as your strength. He will not let you down.
Sometimes rocks aren't pretty, and other times rocks can be beautiful. We aren't Christians because we're strong and we think we have it all together; we are Christians because we realize that we are weak and that we need a Saviour. Meditate on God as your rock. Sometimes you have to hit rock bottom before you realize that God is your rock at the bottom. No matter where you're at, if you put your trust in God, He will be your rock.
Originally published as "The Rock." Minto Express, Independent Plus, Arthur Enterprise-News, Mount Forest Confederate. August 17, 2017: 7. Print. Web.