Hope Reflected | Sharing Your Faith
Written by H, Posted in Christian Living, Published Work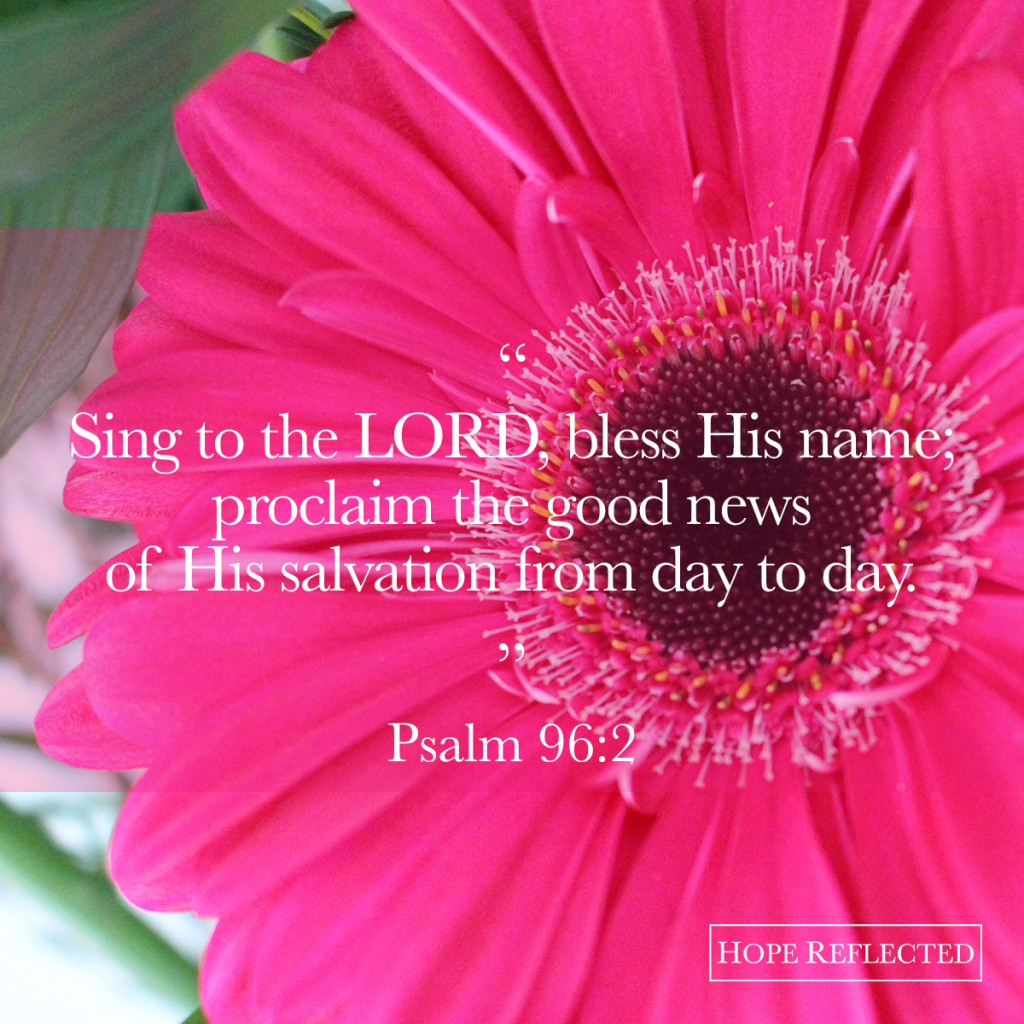 As a young child, I can remember hearing stories of missionaries who traversed the world over, taking the Gospel to the farthest-reaching places of the globe, and sharing the "Good News" in a country that wasn't their home. Historical figures such as Adoniram Judson, Hudson Taylor, and Amy Carmichael dedicated their entire lives to spreading the Gospel of Christ and serving others. Even sitting and listening to the letters being read at our own church, – the weekly updates and reports of teaching, preaching, and building, – seemed unending coming in from those serving the Lord in other countries. "How do they do it," I wondered. "I don't even think I could share my faith with my friends here at home!"
Sharing your faith may seem like a daunting task, however there are a few things to keep in mind when you feel led to share your testimony with someone else.
Sharing your faith is something you can do right at home. "Sing to the LORD, bless His name; proclaim the good news of His salvation from day to day." (Psalm 96: 2) Sharing your faith isn't something that you need to travel the world over to do. Sharing your faith starts right at home with your family, friends, and neighbours. We are called to proclaim the Good News from day to day. We are called to be missionaries wherever we are. Where does each day find you? Whether at school or at work, or even in recreation; sharing your faith is something you can do right in your own backyard.
Sharing your faith is about Christ and what He did for you. "For by grace you have been saved through faith, and that not of yourselves; it is the gift of God." (Ephesians 2:8) Your salvation is not about you or anything you did. This is a reminder that we can all use, is it not? How often do we find ourselves caught up worrying about not having the right words to say, or fearful that if we stand up for our Faith, other people will judge us or not want to be friends with us? Well, here's a reality check: Sharing your faith is not about you, and it's not about me. It's about Christ. I love what Billy Graham says on the topic: "Remember that God does not call the equipped; He equips the called – and as Christians, we are all called to share what Christ has done." When it comes to sharing your faith with others, things don't have to be complicated; while some individuals may have an incredible story and testimony about how they came to know the Lord, others may not; and there's nothing wrong with that! Remember, sharing your faith is about what Christ has done for you, not about anything you have done.
Sharing your faith is more than speaking words from a Bible. "You are the light of the world. A city that is set on a hill cannot be hidden. Nor do they light a lamp and put it under a basket, but on a lampstand, and it gives light to all who are in the house." (Matthew 5:14-15) When it comes to sharing your faith, remember that your testimony is more than speaking words; it's living them. Your testimony is demonstrated practically in the life you live. Anyone can do some research and recite Scripture. The real proof is in the pudding. Is your life indicative of a close walk with Christ? It is a daily challenge to live right. As Wes says, "we're all a mess and the only way we can make it through each day is by God's grace." In my own life, having the right attitude, being consistent, and guarding my tongue are not always easy tasks – the struggle is real. It is hard to live the fruits of the spirit, especially when some days I feel like I'm failing lesson after lesson on patience, kindness, and goodness. Sharing your faith is about your actions just as much as your words.
We are called to "walk in wisdom toward those who are outside, redeeming the time. Let your speech always be with grace, seasoned with salt, that you may know how you ought to answer each one." (Colossians 4:5-6) We are also called to "sanctify the Lord God in your hearts, and always be ready to give a defense to everyone who asks you a reason for the hope that is in you." (1 Peter 3:15) God makes no mistakes, and He brings people across each of our paths for a purpose. Grow where you've been planted!
Originally published as "Sharing Your Faith." Minto Express, Independent Plus, Arthur Enterprise-News, Mount Forest Confederate. February 23, 2017: 8. Print.