Hope Reflected: The Importance of Attitude
Written by H, Posted in Christian Living, Published Work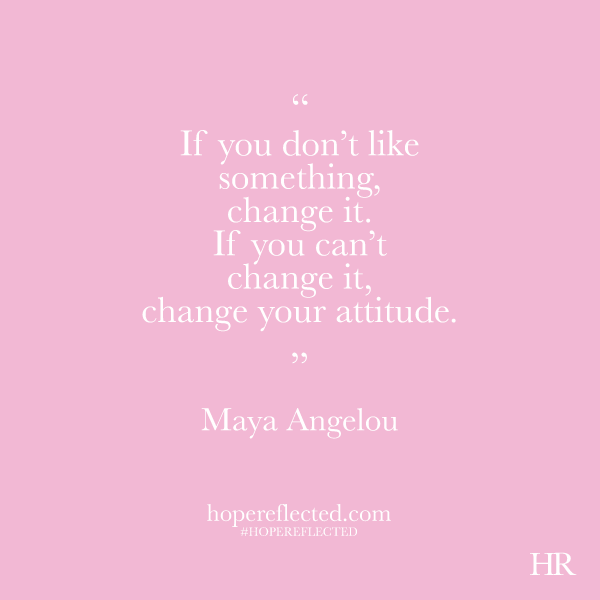 It was Captain Jack Sparrow (aka Johnny Depp) in the Pirates of the Caribbean film franchise that said, "The problem is not the problem. The problem is your attitude about the problem. Do you understand?" Many a true word is said in jest, and Captain Sparrow sure shared some dingers.
It's true, though; a lot of how we walk through life has to do with our attitude and our outlook on circumstances. I'll be the first to admit that my attitude isn't always the greatest; like many people, I go through waves of positivity, only to get down in the dumps at the first sign of something discouraging. That's life. Much like choosing joy, we've got to make the choice to have the right attitude. Our attitude can make or break us.
There's a ripple effect when we make the choice to have the right attitude, and here are three ways the right attitude can help each one of us:
The right attitude helps us maintain a focus on edifying and uplifting things. Philippians 4:8-9 (KJV) lists six virtues that we should focus on – "whatsoever things are true, whatsoever things are honest, whatsoever things are just, whatsoever things are pure, whatsoever things are lovely, whatsoever things are of good report…". This can be really hard, especially if we're in the midst of conflict or have received discouraging news – no one ever said having the right attitude was easy, but our attitude can help us keep things in perspective and keep our focus on the positive.
The right attitude helps us become more selfless. In our world, there's an ever-growing movement that focuses on self and instant gratification. That's a dangerous path to walk along, as the more we focus internally, the more likely we are to become discouraged, down, or even depressed. The right attitude helps us put our focus where it should be: Less on me, me, me, and more on how we can best serve God and others. In Galatians 5:13 (KJV), we're encouraged to put the needs of others before our own: "…by love serve one another."
The right attitude brings peace. There's no comfort like recognizing that even in the midst of threshing and discouraging circumstances, God has a plan for each one of us. Having the right attitude while we're walking through life's valleys gives us power over our circumstances and peace that passes all understanding. In chapter 4 verse 7 of his letter to the Philippians (KJV), Paul wrote, "And the peace of God, which passeth all understanding, shall keep your hearts and minds through Christ Jesus."
I've written before about purposefully choosing joy, that happiness isn't just something that happens to us, and the same principle applies to our daily attitude in life. Maya Angelou said, "If you don't like something, change it. If you can't change it, change your attitude." A positive attitude doesn't always come naturally – quite often the right attitude is something we need to choose. Every. Single. Day.
Originally published as "The Importance of Attitude". Minto Express. September 23, 2015: 5. Print.