What are we doing while we're waiting?
Written by H, Posted in Christian Living, Published Work
There is a blessing when we wait on the Lord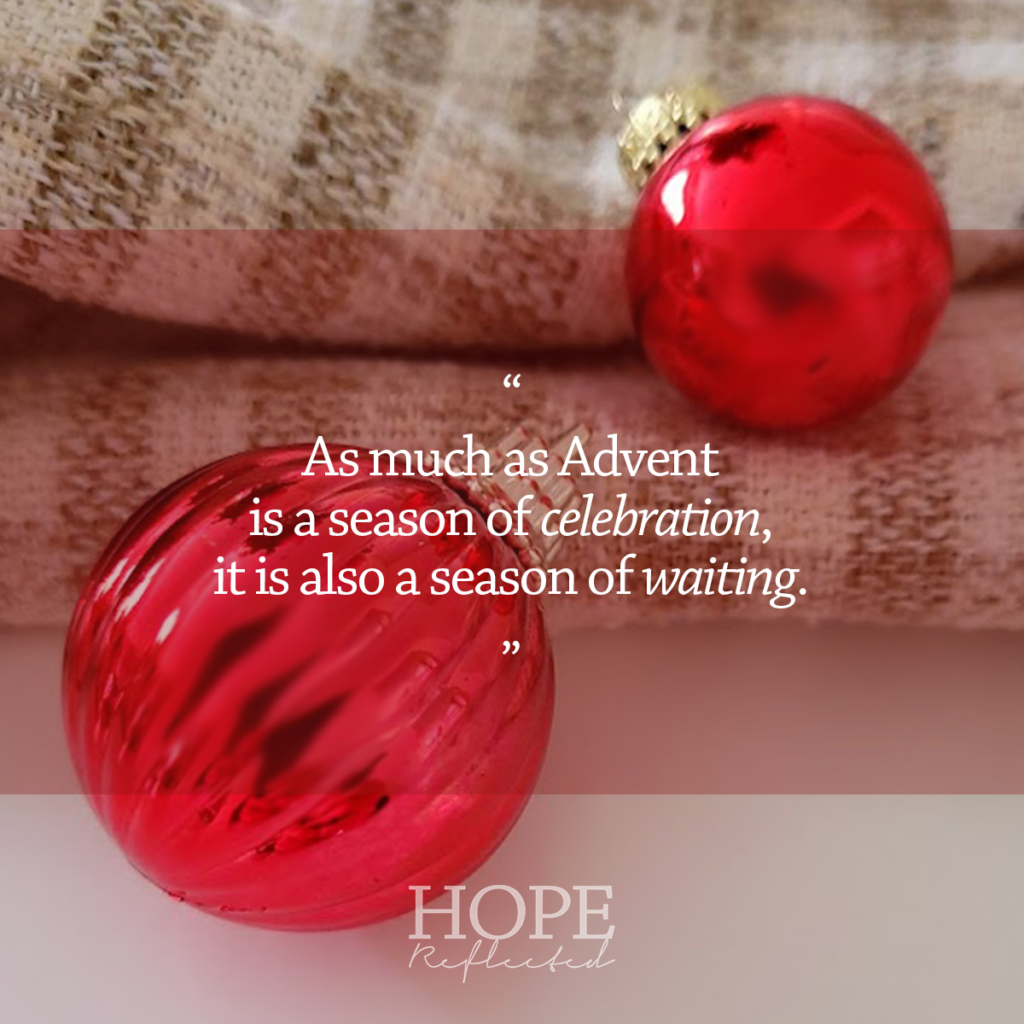 Advent is a season that's filled with anticipation as we celebrate the first advent of Christ, and prepare for Christmas. As much as Advent is a season of celebration, it is also a season of waiting.
When I was a child, there were several years that I found it particularly difficult to go to bed on Christmas Eve. My heart was filled with such anticipation of waking up to a stocking hanging on my bedroom door, gifts under the tree, delicious food to eat, and cousins to play with – it felt like I literally could not wait for Christmas. I had to, however. I can recall my parents tucking me in to bed, saying that Christmas morning would be here soon enough, and I can remember thinking that it would never come, but eventually it did.
Advent means coming. When something is coming, it has not yet arrived, and therefore, we must wait. We have to wait for Christmas, as we do many things in life. Perhaps it's not Christmas that you're waiting for. Maybe you're waiting for a phone call, for a difficult season to end, an exciting new season to begin, or for a certain milestone. We're all waiting for something. My Mum and I recently talked about waiting and "what-ifs", and she asked me, "What are you doing while you're waiting? That's the key."
How to wait on the Lord
Are our hearts focused on Christ? Are we worrying or resting in Him? Worrying is tiring because it requires a great deal of energy. Remember what the Bible says about waiting on the Lord: "But they that wait upon the LORD shall renew their strength; they shall mount up with wings as eagles; they shall run, and not be weary; and they shall walk, and not faint." (Isaiah 40:31) When we wait on the Lord, we rest in Him. Even if we have to remind ourselves multiple times throughout the day, we should choose to rest in Him rather than to worry. Waiting on the Lord doesn't mean that He'll remove our challenges or speed up time, but when we wait on the Lord, He promises to strengthen our hearts (Psalm 27:14).
Rather than fretting about the future, we should commit our way to the Lord. "Commit thy way unto the LORD; trust also in him; and he shall bring it to pass." (Psalm 37:5) When we wait on the Lord, He will bring it to pass! Though the outcome may not always be what we think – or sometimes even what we want – there is a blessing when we wait on the Lord.
Working faithfully while we're waiting
While the shepherds were waiting, they worked faithfully. "And there were in the same country shepherds abiding in the field, keeping watch over their flock by night." (Luke 2:8) As a result they witnessed the first incarnation of Christ, what we celebrate today as Christmas. The Lord is good to those who wait on Him! (Lam. 3:25) As we celebrate Advent, may we recognize the benefits and blessings of waiting on the Lord. As C.S. Lewis once said, "I am sure that God keeps no one waiting unless He sees that it is good for him to wait."
Originally published as "What are we doing while we're waiting?" Independent Plus. December 19, 2019: 5. Print. Web.