Encouragement: Isaiah 54:10
Written by H, Posted in Christian Living, Encouragement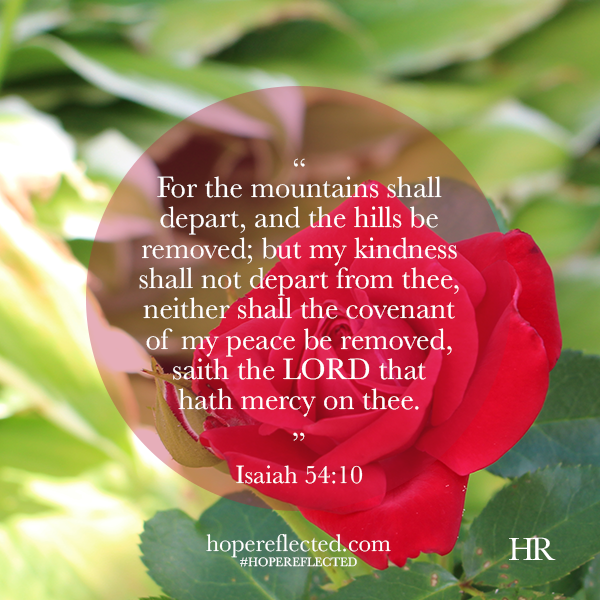 "For the mountains shall depart, and the hills be removed; but my kindness shall not depart from thee, neither shall the covenant of my peace be removed, saith the LORD that hath mercy on thee." Isaiah 54:10
If you haven't already read through Isaiah 54, I hope you take a few minutes today to do so. Give it a read. The whole chapter is an encouragement.
Even just looking at verse 10, check out all the encouraging truths that are right here! Can you imagine a world where the mountains and the hills are shaken and not just moved, but removed from the earth?! Yet all the while, God remains steadfast, with several promises holding true:
God's kindness will not depart from us. We know that God is slow to anger. The Psalmist in Psalm 63:3 proclaims, "Because your lovingkindness is better than life, My lips will praise You." In Psalm 69:16 the Psalmist says, "Hear me, O LORD; for thy lovingkindness is good: turn unto me according to the multitude of thy tender mercies." Our God is KIND. He loves us. He has our best interest at heart.
God's peace, the covenant of His peace will not be removed from us. Philippians 4:7 promises, "and the peace of God, which passes all understanding, will guard your hearts and minds in Christ Jesus." As Christians, we can speak from experience that God blesses His people with peace (Psalm 29:11). When troubles on earth seem to prevail, there is something to be said about committing it all to our Saviour. He will give us a peace that is far beyond any comfort we can find in this world.
God, our Lord, will have mercy on us. From experience, and from God's Word, we know that God is rich in mercy (Ephesians 2:4). Mercy, by definition, is God withholding the judgement that we deserve and instead granting us the forgiveness we don't deserve and we couldn't have earned. David, in Psalm 51 cries out to the Lord, "Have mercy on me, O God, according to your steadfast love." Our Lord is merciful, and He is quick to forgive. He sent His Son to the cross as redemption for our sins.
If you're looking for encouragement this week, take the time to read Isaiah 54. Not only will God stay with us, show us His kindness, grant us His peace, and show us His mercy; God also promises within Isaiah 54 that "no weapon that is formed against thee shall prosper; and every tongue that shall rise against thee in judgement thou shalt condemn. This is the heritage of the servants of the LORD, and their righteousness is of me, saith the LORD."