Wednesday Wisdom | Faith Reassures You
Written by H, Posted in Christian Living, Wednesday Wisdom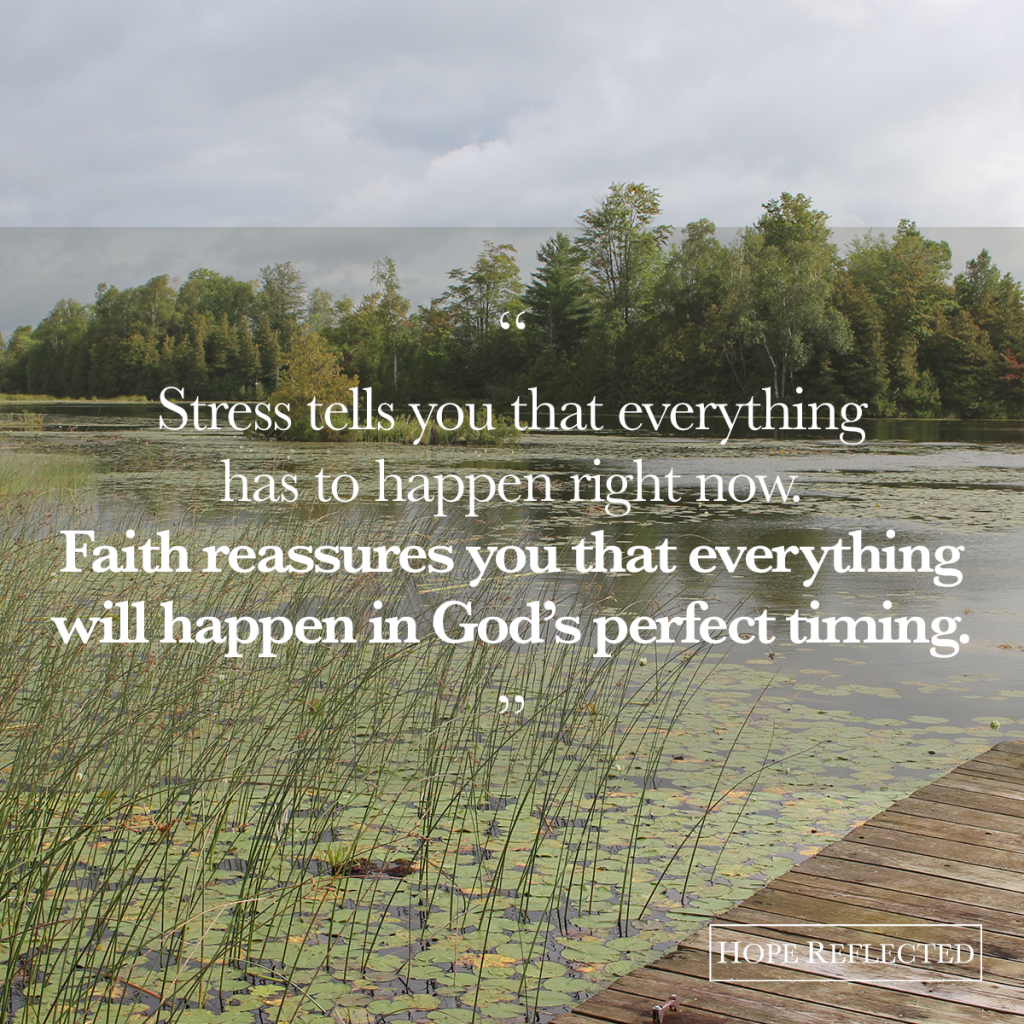 "Stress tells you that everything has to happen right now. Faith reassures you that everything will happen in God's perfect timing."
A friend of mine shared this quote on Facebook the other day, and it reminded me of the importance of keeping our focus on God and His perfect timing — even when we feel like He can't hear us. Isn't it true? So often, we go to the Lord in prayer seeking an instant answer to a prayer request, or so confident in our own plan, when really, we ought to rest in Him and wait patiently for His perfect timing rather than rushing.
Elisabeth Elliot once said, "Don't dig up in doubt what you planted in faith." When we make a conscious effort to keep our focus on God, we strengthen our faith. Here are 10 encouraging Bible verses for when you're feeling stressed or if you need reassurance of God's faithfulness.
"'For I know the plans I have for you,' declares the LORD, 'plans to prosper you and not to harm you, plans to give you hope and a future.'" (Jeremiah 29:11)
"Blessed is she who has believed that the Lord would fulfill his promises to her!" (Luke 1:45)
"Do not be anxious about anything, but in every situation, by prayer and petition, with thanksgiving, present your requests to God. And the peace of God, which passes all understanding, will guard your hearts and your minds in Christ Jesus." (Philippians 4:6-7)
"Trust in him at all times, you people; pour out your hearts to him, for God is our refuge." (Psalm 62:8)
"Come to Me, all you who labour and are heavy laden, and I will give you rest. Take my yoke upon you and learn from Me, for I am gentle and lowly in heart, and you will find rest for your souls. For my yoke is easy and My burden is light." (Matthew 11:28-30)
"Cast all your care upon him, for he careth for you." (1 Peter 5:7)
"Be still, and know that I am God." (Psalm 46:10)
"Trust in the LORD with all your heart and lean not on your own understanding; in all your ways acknowledge him, and he will direct your paths." (Proverbs 3:5-6)
"When my heart is overwhelmed, lead me to the rock that is higher than I." (Psalm 61:2)
"And we know that in all things God works for the good of those who love Him, who have been called according to His purpose." (Romans 8:28)
These are just 10 Bible verses for when you're feeling stressed, anxious, worried. The Bible is filled with so many encouraging and uplifting verses. Dig into God's Word and let faith reassure you. Rest in the LORD and wait patiently for Him!
"Stress tells you that everything has to happen right now. Faith reassures you that everything will happen in God's perfect timing."