Hope Reflected: The Importance of Being Original
Written by H, Posted in Christian Living, Published Work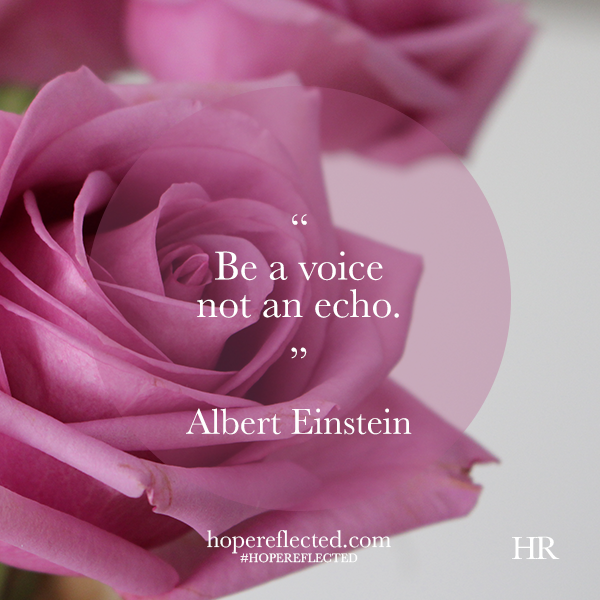 Wes and I love jazz. Diana Krall, Duke Ellington, Tony Bennett, Wes Montgomery; you name the artist, and chances are, we've got them in our playlist. Listening to a Diana Krall album last week, we were both struck by her ability to take a standard that's been sung so many times before and make it her own. Krall has her own distinct delivery that gives her the ability to sing the same songs as other jazz artists, but to make them unique. She takes the influences that speak to her and infuses them into her music. Krall is an original.
We all collect and draw influences from our surroundings – people, music, movies, books, ideologies – and we live these influences out in our daily lives. Even what you eat can affect your mind! That's why it's so important to be conscious of what you allow into your heart and mind.
In a world of copycats, it's not easy to be original. And let's be real, is there anything that's truly original anymore? King Solomon said in Ecclesiastes 1:9, "That which has been is what will be, That which is done is what will be done, And there is nothing new under the sun." God is the original Creator of every single thing, and He created each of us uniquely in His image.
Why else is it important to be original?
God created you to be you. Not your neighbour, not your best friend. God created you with a distinct purpose in mind, and you can't achieve His purpose for your life if you spend all your time trying to be like other people. Luke 12:7 reminds us that "even the very hairs of your head are all numbered. Fear not therefore: ye are of more value than many sparrows." If God knows the exact amount of how many (or how few) hairs are on your head, you can rest assured that He created you for a purpose that only you can accomplish and fulfill.
You have a responsibility to draw from the Original Source. While there are many influences in the world, remember to draw your best influences from the Creator of everything: God. God is loving, and He is the Great Comforter. God provides peace, and only He can provide true joy in our lives. Philippians 4:8 says that "whatsoever things are true, whatsoever things are honest, whatsoever things are just, whatsoever things are pure, whatsoever things are lovely, whatsoever things are of good report; if there be any virtue, and if there be any praise, think on these things." When we draw on God as the Original Source of all creation, we keep our focus on the right things in life.
Others look to you as an Influencer. As much as you draw from the influences of other people, there are also other people who look to you as an influence in their lives. That's another reason it's so important to be conscious of the sources from where we draw our influences. 1 Corinthians 15:33 is a great reminder, "Do not be deceived: "Bad company ruins good morals."" Who we allow to influence us and how we live our lives matters! Matthew 5:16 tells us "let your light shine before others, so that they may see your good works and give glory to your Father Who is in heaven." Being yourself is a big deal; you never know who is watching.
God created all the snowflakes unique, He is the Creator of every single thing, and all of His creations are original. Often overlooked, being original is very important. Be a voice, not an echo!
Originally published as "The Importance of Being Original." Minto Express. July 13, 2016: 5. Print.