Hope Reflected | Meekness
Written by H, Posted in Christian Living, Published Work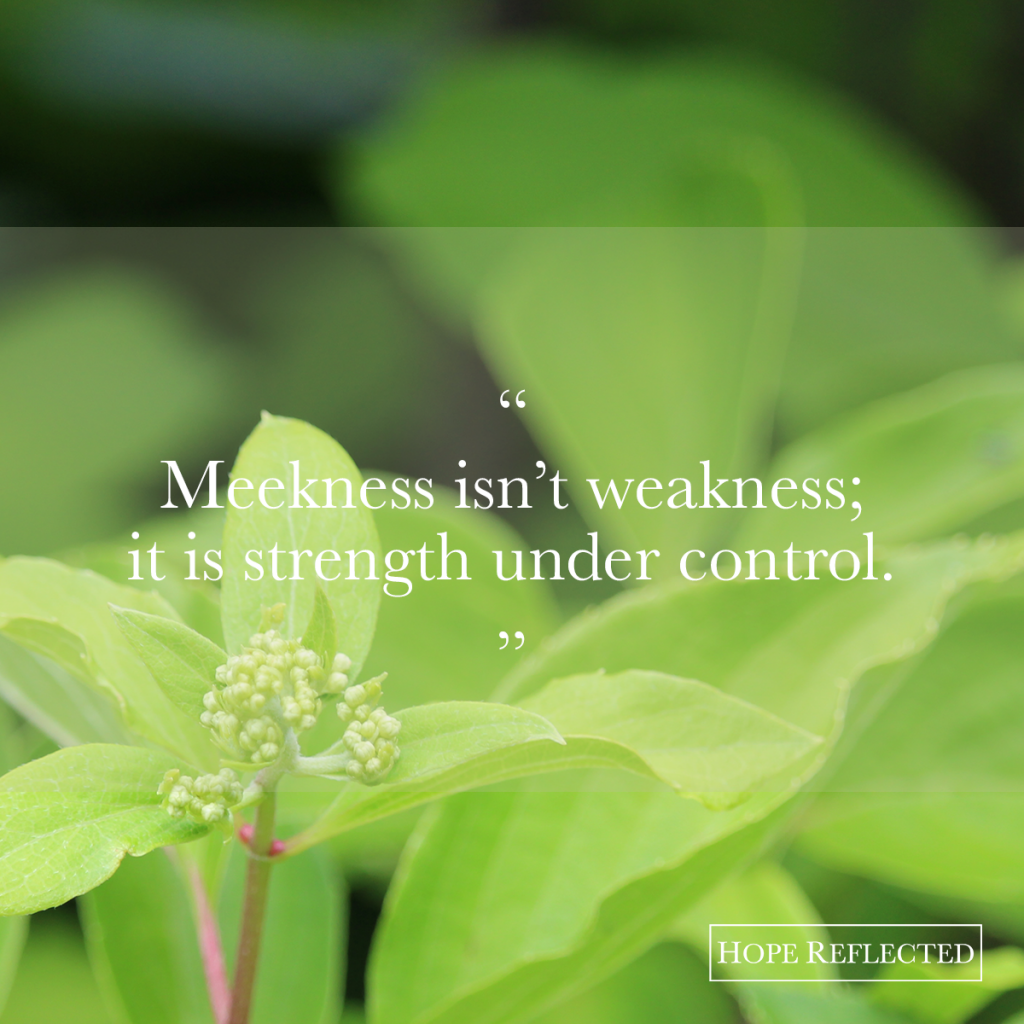 Meekness
Sunday is a day that both Wes and I look forward to each week. Not only is it the start of a new week, the Sabbath brings with it an opportunity to rest, to receive Biblical teaching, and to fellowship with other believers. This past Sunday, we were blessed by the ministry of Tim Horne. Speaking on the subject of the Beatitudes, Tim shared from God's Word about Christians cultivating the characteristics of Christ in our everyday lives.
If you're not familiar with the Beatitudes, you can read them as part of Jesus's Sermon on the Mount in Matthew 5:1-12. The Beatitudes are a list of blessings and characteristics that Jesus highlights, and as Tim explained, the Beatitudes are a portrait of Jesus.
One of the Beatitudes is that of meekness. Jesus tells us in Matthew 5:5, "Blessed are the meek: for they shall inherit the earth." What does it truly mean to be meek?
Often, the virtue of meekness is associated with weakness (perhaps because the two words rhyme?). However, meekness isn't weakness; it's strength under control. From what I can see, Jesus is referred to (or calls Himself) meek at least ten times throughout Scripture. When you think about the definition of meekness, and what it means to embody the word, the references to Jesus as meek are very fitting. In fact meekness – for those living and looking to the Lord every day – is one of the essential expressions of a true Christian.
To be meek requires wisdom. "Who is wise and understanding among you? Let him show by good conduct that his works are done in the meekness of wisdom." (James 3:13) When I think of the people in my life who I consider to be wise, I see them as great pillars of strength. American theologian Warren Wiersbe once said that "meekness is the right use of power, and wisdom is the right use of knowledge. They go together. The truly wise person will show in his daily life (conversation means behavior), that he is a child of God. Attitude and action go together."
To be meek requires strength. "Now the man Moses was very meek, above all the men which were upon the face of the earth." (Numbers 12:3) Moses was a strong man. Not only did he lead the Israelites out of Egypt and across the Red Sea, he also received the Ten Commandments from God. Meekness isn't weakness; it's strength under control. As Elder Ulisses Soares once said, "Being meek does not mean weakness, but it does mean behaving with goodness and kindness, showing strength, serenity, healthy self-worth, and self-control." Never assume that loud is strong and quiet is weak.
To be meek requires humility and a teachable spirit. "The meek will he guide in judgment; and the meek will he teach his way." (Psalm 25:9) Getting caught up in always being right, winning the argument, or always having the last word can be exhausting. You can find rest when you're willing to learn. In one of my favourite Bible verses, Jesus provides encouragement when He says, "Take my yoke upon you, and learn of me; for I am meek and lowly in heart: and you shall find rest unto your souls." (Matthew 11:29) It takes courage to be humble, and the Lord blesses a teachable spirit. "…God resists the proud, and gives grace to the humble." (1 Peter 5:5)
To be meek requires peacefulness. "And the servant of the Lord must not strive; but be gentle unto all men, apt to teach, patient, in meekness instructing…" (2 Timothy 2:24-25) Sometimes we confuse being peaceful with being a pushover, and that's not the case. Part of being meek means that you don't purposefully strive with others, and you don't seek out arguments. That being said, being meek requires you to stand up for what's right, and to address it if someone treats you wrong. After all, God doesn't call us to be doormats but He does call us to live in love. "Put them in mind… to speak evil of no man, to be no brawlers, but gentle, showing meekness unto all men." (Titus 3:2)
If you're ever in doubt about the virtue of meekness, consider Jesus. As a mirror of the Beatitudes, His life is an example of meekness. To be soft and strong is a combination that few have mastered, but it can be done when you keep your focus on Christ.
Originally published as "Meekness." Minto Express, Independent Plus, Arthur Enterprise-News, Mount Forest Confederate. July 6, 2017: 7. Print. Web.