Hope Reflected: It Is What's On The Inside That Counts
Written by H, Posted in Christian Living, Published Work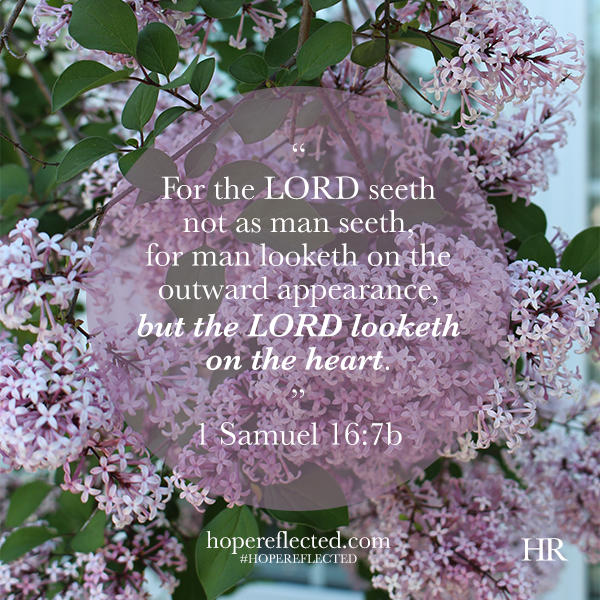 It is what's on the inside that counts.
Recently, Wes and I have been spending several hours each week out in the yard; I've been working in the garden, and he's been tending to the lawn (where we have a serious thing with dandelions – anyone have suggestions for how we can eradicate them?). We've been spending a record amount of time outdoors this season, weeding our garden faithfully and working on other outdoor living projects. Regardless of the day, I am always struck by the amount of weeds that pop up overnight in our garden, and how when I pull them, although the top part of the weed is small, the roots are huge and deeply settled in the soil.
When I was first started pulling the weeds, I thought to myself, "They'll come out easily enough," only to be surprised with how deep-rooted they were. How often do we look at things on the surface and think we know what lies on the inside, only to delve deeper and be surprised when things are completely different than we expected? It's kind of like looking at an iceberg. What we see above water is only about 10% of the total iceberg; the other 90%, the greater mass, lies beneath the waters.
How often do we, as human beings, just look at the surface, when so often there is so much deeper-rooted beneath in the spirit!
1 Samuel 16:7 (KJV) says, "But the LORD said unto Samuel, Look not on his countenance, or on the height of his stature; because I have refused him: for the LORD seeth not as man seeth, for man looketh on the outward appearance, but the LORD looketh on the heart."
Take King David, for instance. The Lord looked on David with favour, while in his early days mere mortals thought of David as the least regarded and good only for tending sheep (rather than defending a nation). If we as humans got it wrong then, who's to say we don't often get it wrong now?
How often do we see a homeless person, or encounter someone with less than we've been blessed with, and pass judgment? How often do we look on our circumstances and feel bad, comparing ourselves to others, when really we know nothing of what's really going on in their lives? When we take time to look past the surface, we'll learn not to judge a book by it's cover, and that it is what's on the inside that counts:
Be interested. Philippians 2:4 (KJV) says that we should, "Look not every man on his own things, but every man also on the things of others." Instead of looking in, take time to look out. Be sincerely interested in those around you. When you're interested in others, others take interest in you. This is a great way to build true friendships and also to get to know those around you.
Don't judge. Matthew 7:1-2 (KJV) says, "Judge not, that ye be not judged. For with what judgment ye judge, ye shall be judged: and with what measure ye mete, it shall be measured to you again." Quite often, we look on the appearance of others and form our decision from just what we can see. The beauty of it is, that God looks so much deeper than just looks. He looks into our heart.
Search your heart. In Psalm 139: 1-3 (KJV), David asks the Lord to search his heart: "O LORD, thou hast searched me, and known me. Thou knowest my downsitting and mine uprising, thou understandest my thought afar off. Thou compassest my path and my lying down, and art acquainted with all my ways." Ask the Lord to search your heart. While we should all spend more time looking out and up rather than in, a little bit of self-analysis and prayerful consideration can go a long way. What are our motives? What do we truly feel? What is our real condition?
I'll close with this quote, which is a good reminder, from Proverbs 11:27 (KJV): "He that diligently seeketh good procureth favour: but he that seeketh mischief it shall come unto him." Choose to be one who looks past the surface; don't judge a book by its cover.
Originally published as "Don't Judge a Book by its Cover." Minto Express. June 1, 2016: 6. Print.