Written by H, Posted in Christian Living, Published Work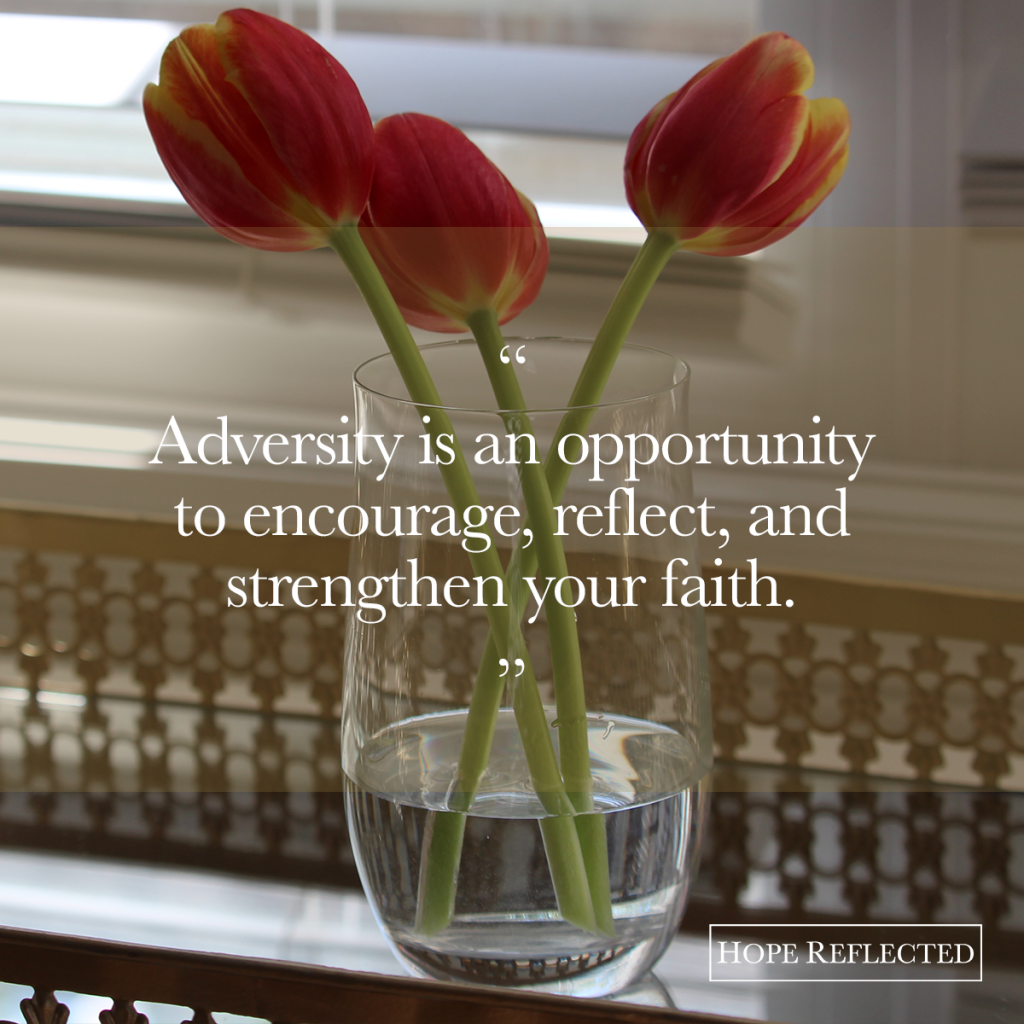 What is the blessing in adversity?
As we've all learned the past several weeks, nothing grows without rain. Sometimes, the same can be said of our own personal growth. Without adversity and challenges in life, we would not be who we are.
Last year, I wrote about what to do in the face of adversity, and lately Wes and I have been discussing the blessing in adversity. It's human nature when we go through hard times or have to face challenges, to get discouraged and to get down. The hard truth to swallow is that in those times of adversity, we should learn and train ourselves to embrace adversity, to see the blessing in adversity.
What is the blessing in adversity? Adversity is an opportunity.
Adversity is an opportunity to reflect. "Examine me, O Lord, and prove me; try my mind and my heart." (Psalm 26:2) Adversity offers an opportunity to reflect. It is thought that David wrote Psalm 26 during a very testing time – when he was fleeing King Saul and hiding out in the wilderness (for ten years, no less). Even at a time when he was fleeing for his life, David asked the Lord to examine him, and to try his mind and heart. Adversity offers an opportunity to reflect and question our own actions and motivations. What is God trying to teach us or to tell us? What can we learn from our current circumstances? Sometimes our own spiritual reflection is a way for God to reveal a misbehavior or bad attitude.
Adversity is an opportunity to get better and strengthen your faith. "My brethren, count it all joy when you fall into various trials, knowing that the testing of your faith produces patience. But let patience have its perfect work, that you may be perfect and complete, lacking nothing." (James 1:2-4) Adversity is an opportunity to strengthen your faith – look at the Biblical examples of men and women who moved forward with faith, even when the odds were against them: Joseph, Joshua, and Ruth, just to name a few. "Those who wait on the LORD shall renew their strength; they shall mount up with wings like eagles, they shall run and not be weary, they shall walk and not faint." (Isaiah 40:31)
Adversity is an opportunity to grow closer to God. "Call upon Me [God] in the day of trouble; I will deliver you, and you shall glorify Me." (Psalm 50:15) David is perhaps one of the greatest examples of a man who would continuously seek after God, even in the most dire and desperate of circumstances. Over and over again in the Psalms, we read his testimony of God's faithfulness. "God is our refuge and strength, a very present help in trouble." (Psalm 46:1) If you're struggling in stormy seas, take your focus off the unsettled wind, sea, and rains, and put your faith in the One Who controls all the weather. You might be going through a season of adversity, and that's no surprise to God. Look to Him.
Adversity is an opportunity to encourage others. "A friend loves at all times, and a brother is born for a time of adversity." (Proverbs 17:17) Have you ever had a friend who, no matter what, has been there for you; a friend who's seen you at your worst, and still loves and encourages you? Going through adversity provides a great opportunity to encourage another soul who may also be going through a challenging time. In Galatians 6:2, we're told to "bear one another's burdens," and adversity is an opportunity to do just that.
If you're facing adversity, don't be afraid. Remember, there is blessing in adversity. Dr. Charles Stanley puts it like this: "Adversity is not simply a tool. It is God's most effective tool for the advancement of our spiritual lives. The circumstances and events that we see as setbacks are oftentimes the very things that launch us into periods of intense spiritual growth." Adversity is an opportunity. "For My thoughts are not your thoughts, nor are your ways My ways," says the Lord. For as the heavens are higher than the earth, so are My ways higher than your ways, and My thoughts than your thoughts. For as the rain comes down, and the snow from heaven, and do not return there, but water the earth, and make it bring forth and bud, that it may give seed to the sower and bread to the eater, so shall My word be that goes forth from My mouth; it shall not return to Me void, but it shall accomplish what I please, and it shall prosper in the thing for which I sent it." (Isaiah 55:8-11)
Originally published as "What is the blessing in adversity" Minto Express, Independent Plus, Arthur Enterprise-News, Mount Forest Confederate. May 18, 2017: 7. Print. Web.