Written by H, Posted in Christian Living, Encouragement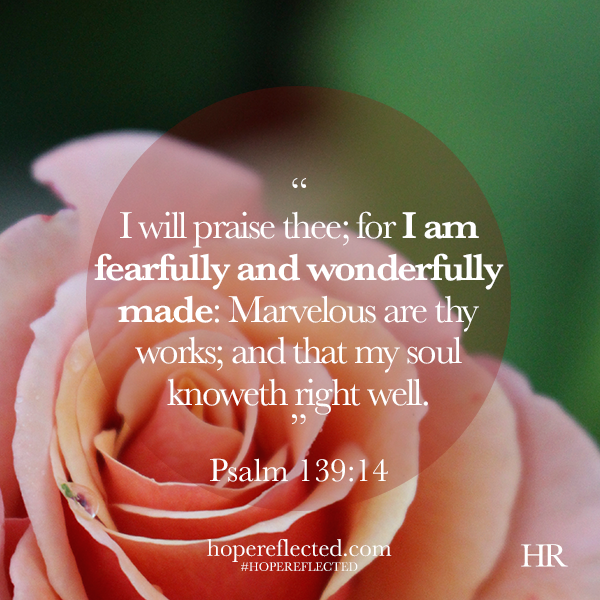 "I will praise thee; for I am fearfully and wonderfully made: marvelous are thy works; and that my soul knoweth right well." Psalm 139:14
Have you ever found yourself looking in the mirror and finding all the physical attributes about yourself that you don't like?
"I'm fat." "I have wrinkles." "My legs are thick." "My stomach's too big." "This outfit doesn't look right."
Let's be honest; we've all been there! In fact, some of us made comments just this morning about our own physical appearance and how unsatisfied we are.
Well, I'm here to encourage you. Take a few minutes today to read through Psalm 139. Written by David, this Psalm describes the everlasting presence and power of God.
Psalm 139:14 says "I will praise thee; for I am fearfully and wonderfully made: marvelous are thy works; and that my should knoweth right well."
When you stand in front of the mirror next time, ready to body shame, just remember: You are fearfully and wonderfully made. God's hands created you, and He makes no mistakes. You are exactly who He created you to be!
Beyond your physical appearance, God knows your heart and soul, and He knows exactly where you're at today. This life and the next are about so much more than physical appearance and what we think is important in the here and now. I need this reminder every day. Every. Day.
"I will praise thee; for I am fearfully and wonderfully made: marvelous are thy works; and that my soul knoweth right well." Psalm 139:14