Written by H, Posted in Christian Living, Encouragement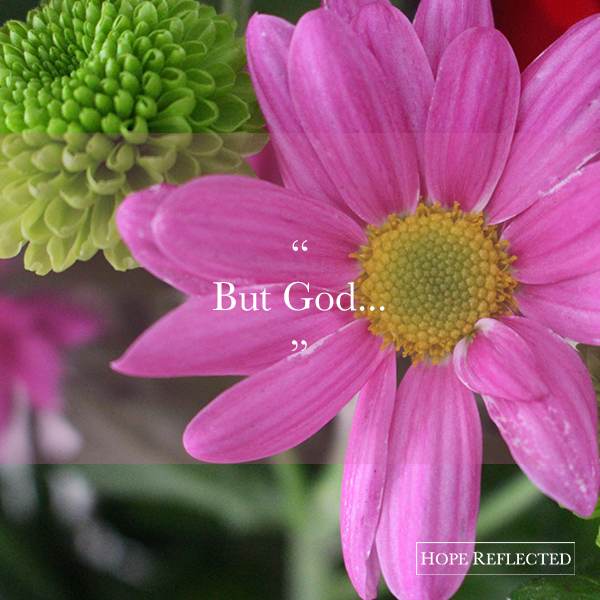 If you're feeling down, sad, small, lonely, afraid, brokenhearted, or like everything (and everyone) is working against you, remember this: God created you for a purpose that only you can fulfill, and God, He's in control.
Yes, sometimes people will do things with the wrong intentions, in an attempt to cause you problems, to purposefully hurt you, or to set up stumbling blocks in your life. Yes, you will have bad days, sad days, and mad days. Yes, you may endure seasons (sometimes back to back to back) where it feels like you're carrying the weight of the world.
When I'm in need of encouragement, or even a reminder of Who's really in control, I look up some of the greatest verses in the Bible — the "But God" verses.
"But God", you ask? Yes! Some of the most incredible plot twists in the Bible happen with two words: But. God. Here are 20 of the best "But God" verses to encourage you today:
Genesis 50:20 "But as for you, ye thought evil against me; but God meant it unto good, to bring to pass, as it is this day, to save much people alive."
Exodus 13:18 "But God led the people about, through the way of the wilderness of the Red sea; and the children of Israel went up harnessed out of the land of Egypt."
Deuteronomy 23:5 "…but the LORD thy God turned the curse into a blessing unto thee, because the LORD thy God loved thee."
1 Samuel 23:14 "And Saul sought him [David] every day, but God delivered him not into his hand."
1 Kings 5:4 "But now the LORD my God hath given me rest on every side, so that there is neither adversary nor evil occurrent."
Psalm 49:15 "But God will redeem my soul from the power of the grave: for he shall receive me. Selah."
Psalm 66:19 "But verily God hath heard me; he hath attended to the voice of my prayer."
Psalm 73:26 "My flesh and my heart faith: but God is the strength of my heart, and my portion for ever."
Psalm 75:7 "But God is the judge: he putteth down one, and setteth up another."
Psalm 86:15 "But thou, O Lord, art a God full of compassion, and gracious, long suffering, and plenteous in mercy and truth."
Jeremiah 10:10 "But the LORD is the true God, he is the living God, and an everlasting king: at his wrath shall the earth tremble, and the nations shall not be able to abide his indignation."
Matthew 19:26 "But Jesus beheld them, and said unto them, With men this is impossible; but with God all things are possible."
Mark 2:7 "Who can forgive sings but God only?"
Mark 10:27 "And Jesus looking upon them saith, With men it is impossible, but not with God: for with God all things possible."
Luke 16:15 "…but God knoweth your hearts."
Acts 7:9 "And the patriarchs, moved with envy, sold Joseph into Egypt: but God was with him."
Romans 5:8 "But God commendeth his love toward us, in that, while we were yet sinners, Christ died for us."
1 Corinthians 3:6 "I have planted, Apollos watered; but God gave the increase."
1 Corinthians 3: 7 "So then neither is he that planteth any thing, neither he that watereth; but God that giveth the increase."
Philippians 4:19 "But my God shall supply all your need according to his riches in glory by Christ Jesus."