Written by H, Posted in Christian Living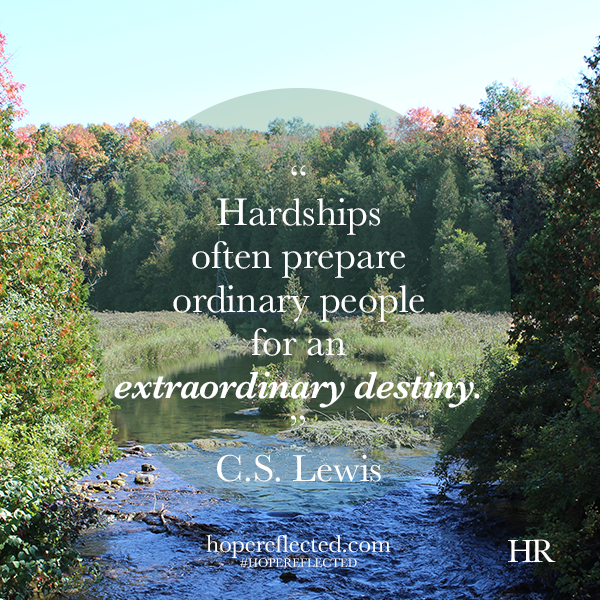 "Hardships often prepare ordinary people for an extraordinary destiny." Wise words regarding adversity from one of my favourite authours, C.S. Lewis. Inevitably, we all will face adversity in our lives at some point or another. While it may not be comforting, that's a fact. Another fact? The key to facing adversity is how we react to it.
Proverbs 24:10 says, "If thou faint in the day of adversity, thy strength is small." It's easy to say, but quite often when we face times of adversity, we wonder how we'll make it through. One of the keys to facing adversity is remembering how to keep things in perspective. Whether you're facing adversity spiritually, relationally, physically, or emotionally, there is hope.
The most important fact to remember in the face of adversity is that God can and will help you through the toughest times in your life, if you will put your trust in Him. In the face of adversity, here are three things to do:
Ask the Lord what He's trying to teach you. Is it patience? (This is a BIG one for me!) Is it humility? Is it trust? Whatever you're going through, God's got you. Whatever your current circumstances and situation, God will be there for you if you'll put your trust in Him. Largely attributed to David – who, if you're looking or a man who faced plenty of adversity throughout his life, check out the life of David in the Bible – Psalm 119 sheds light on seeking the Lord in times of adversity, especially in verse 71, "It is good or me that I have been afflicted; that I might learn thy statutes." Perhaps there's an area in your life where God is trying teach you or mature you. It seems like my life long I've been learning (and learning, and learning) the virtue of patience. Ask the Lord what He's trying to teach you!
Remind yourself that God is in control. Ecclesiastes 7:14 tells us, "In the day of prosperity be joyful, but in the day of adversity consider; God also hath set the one over against the other, to the end that man should find nothing after him." Whatever you're facing, God is in complete control. You know what makes that fact easier to accept? When you trust God completely. Trusting God with your whole heart brings a peace that I can't even begin to describe. As the apostle Paul said in Philippians 4:7, "And the peace of God, which passeth all understanding, shall keep your hearts and minds through Christ Jesus."
Submit, surrender, and fight the good fight. OK that's three points in one, but you get the idea. In the face of adversity:

Submit yourself to the Lord. For help with submission, see James 4:7, "Submit yourselves therefore to God."
Surrender yourself to His will. In Matthew 16:24-25, Jesus tells His disciples, "'If anyone desires to come after Me, let him deny himself, and take up his cross, and follow Me. For whoever desires to save his life will lose it, but whoever loses his life for My sake will find it.'"
Fight the good fight. 1 Timothy 6:12 tells us to "Fight the good fight of the faith. Take hold of the eternal life to which you were called and about which you made the good confession in the presence of many witnesses." See also 2 Timothy 1:7, "For God hath not given us the spirit of fear; but of power, and of love, and of a sound mind." And finally, Romans 8:28, "We know that all things work together for the good of those who love God, those whom He has called according to His purpose."
Whatever you're dealing with today, and wherever this finds you, there is hope. God will provide for you, if you will trust in Him! I'll close with this quote from Charles Stanley: "Often times God demonstrates His faithfulness in adversity by providing for us what we need to survive. He does not change our painful circumstances. He sustains us through them."
Originally published as "What to do in the face of adversity." Minto Express. September 14, 2016. 5: Print.