Written by H, Posted in Christian Living, Published Work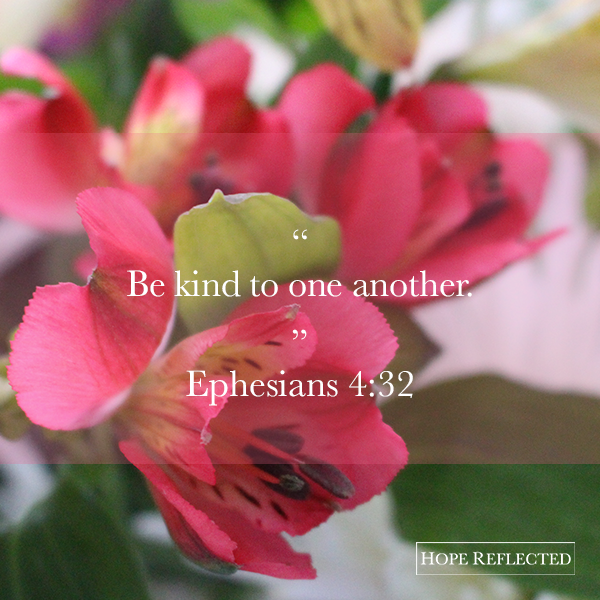 3 ways to be kind: Words of truth from the Book of Ephesians
If you've been anywhere on social media, you're aware of the whirlwind of emotions that people have been feeling leading up to – and during – the inauguration of the 45th President of the United States. Self-proclaimed political pundits, Wes and I were especially interested in the events of the past week, in which we realized the dawn of a new era. Some think that the new President is bad news, others think he's a breath of fresh air; no matter what you're feeling about the new President, pretty much everyone has an opinion.
With recent political happenings, it's been interesting to see and hear the reactions of friends on both sides of the border. One thing is glaringly clear: In the midst of opening up about opinions, people need to learn how to express their thoughts without discriminating and showing intolerance. Too often, the people crying out for justice and equality are the very ones unwilling to demonstrate those same virtues to others of differing opinions.
In reading the book of Ephesians, a book in the Bible the basis of which is the unity of the Church, I am moved by the many practical examples that the book of Ephesians shows of how to cultivate kindness in everyday life.
Each of us could do with more kindness – both on the giving and receiving ends. To cultivate kindness in your own life, consider these three ways to be kind:
Practice patience. "Be patient." Ephesians 4:2 In the KJV, 'longsuffering' is the word. Longsuffering is defined as "having or showing patience in spite of troubles, especially those caused by other people". It's not always easy to be patient with others – when you're working on a deadline, when the kids are goofing off instead of doing what you asked, when you're feeling anxious – but we need to show grace to others (as well as ourselves).
Show compassion. "And be kind to one another, tenderhearted, forgiving one another, even as God in Christ forgave you." Ephesians 4:32 In some versions the word 'tenderhearted' is replaced with 'compassionate', and here's what that means: To be tenderhearted or compassionate means to be concerned for others, and to be sympathetic. Rather than looking in all the time and being concerned with your own best interests, get into the practice of looking out (and up!) and try putting others first. It can be as simple as opening a door for someone or letting a car cut in front of you in traffic.
Stand firm. "Stand firm then, with the belt of truth buckled around your waist…" Ephesians 6:14 Many people have a misconception that being kind means you have to be weak or let yourself get walked over by others who have a stronger voice than you. In fact, quite the opposite is true. Being kind requires us to stand firm in what we believe. You've heard the saying, "speak the truth in love," and when you're cultivating kindness, you're speaking the truth, in love, standing firm on what you know to be true.
We don't have to agree on everything – or anything, for that matter – to be kind to one another. Remember, you are always responsible for how you act, no matter how you feel. Don't underestimate how even the smallest of kind actions can impact the life of another. As Mark Twain said, "Kindness is a language that the deaf can hear and the blind can see." Wherever you are, cultivate kindness.
Originally published as "3 ways to be kind: Words of truth from the book of Ephesians." Minto Express, Independent Plus, Arthur Enterprise-News, Mount Forest Confederate. January 25, 2017: 7. Print.