Written by H, Posted in Christian Living, Encouragement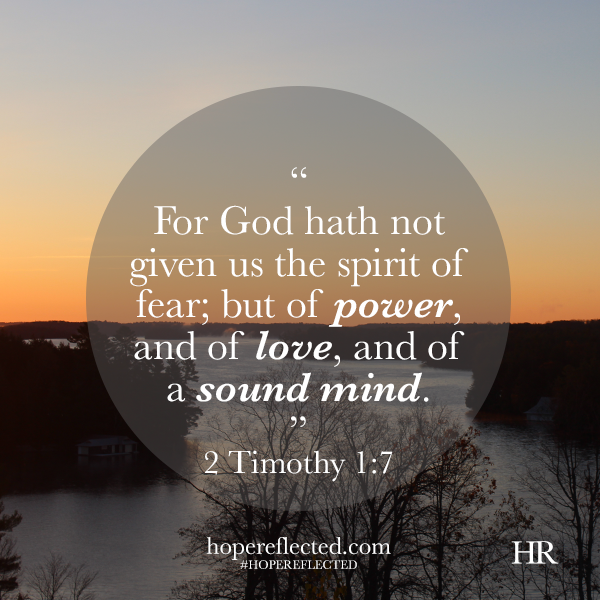 "For God hath not given us the spirit of fear; but of power, and of love, and of a sound mind." 2 Timothy 1:7
The past few weeks, the media's been building and encouraging a lot of 'fear' in people; and admittedly, it's easy to get caught up in the emotion and excitement. There's something very important to remember, however. God is in control.
And what's more? We're clearly told in the Bible that "God hath not given us the spirit of fear". If you are feeling afraid, or nervous, or apprehensive about the future, consider this: In Isaiah 41:10, we are encouraged to "Fear thou not; for I am with thee: be not dismayed; for I am thy God: I will strengthen thee; yea, I will help thee; yea, I will uphold thee with the right hand of my righteousness." In Psalm 34:4, we are told, "I sought the LORD, and he heard me, and delivered me from all my fears."
Paul wrote to book of 2 Timothy from prison, and yet he encouraged us by saying that God hasn't given us the spirit of fear. To have that realization and be able to admit that from prison? Wow! What a Faith! Can you imagine all the difficulties and persecution that Paul faced behind bars? I can't either, but it probably was not an easy or comfortable place to be.
If you're feeling nervous, or anxious, or fearful heading into the challenges of a new week, remember the second part of 2 Timothy 1:7. God has given us the spirit "of power, and of love, and of a sound mind."
Consider this: With the spirit of God's power, love, and sound mind, we can set out to face any challenge that is before us. It's easier said that done, but whatever you're facing, God has promised that He will be there for you!
"For God hath not given us the spirit of fear; but of power, and of love, and of a sound mind." 2 Timothy 1:7