Written by H, Posted in Christian Living, Published Work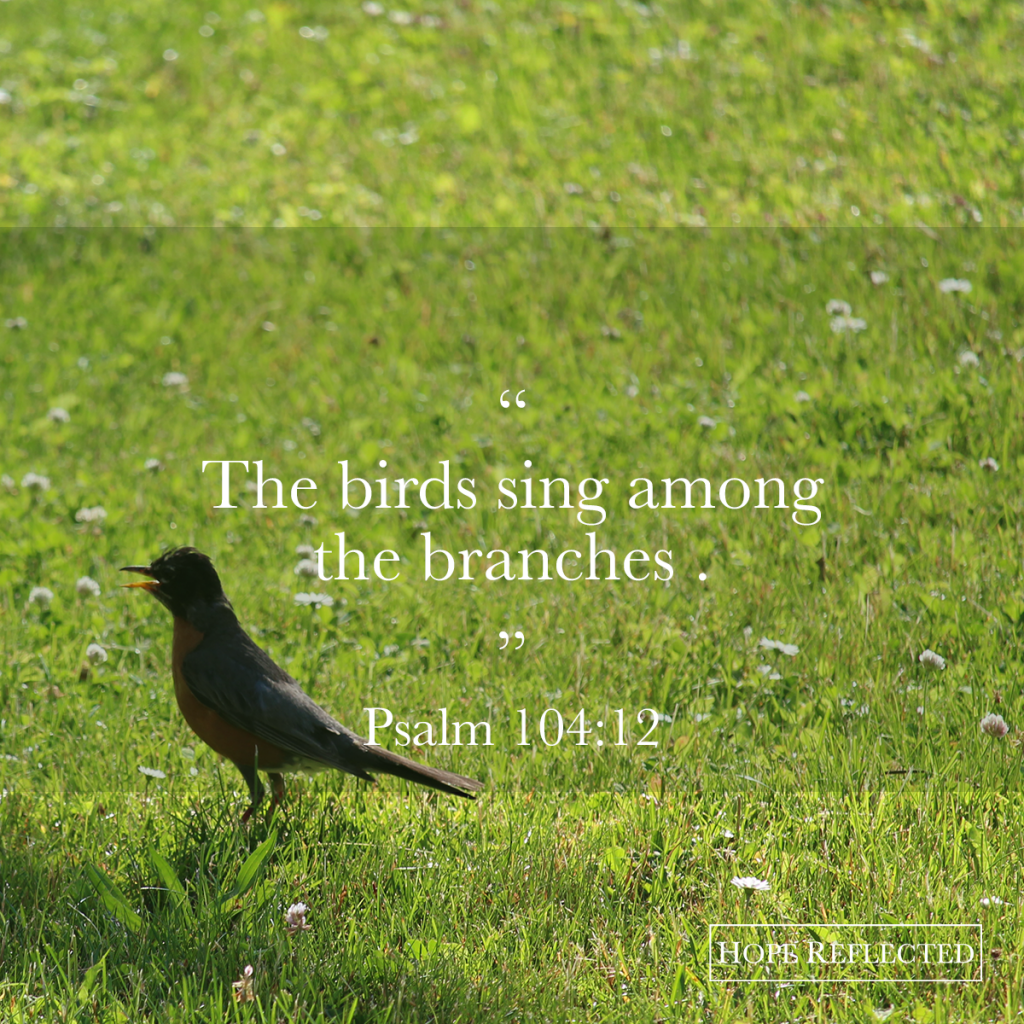 Watching your words
If you follow along on our blog (www.hopereflected.com), then you know how much Wes and I love bird watching. From robins and blue jays to cardinals and mourning doves, there is something so soothing and therapeutic about watching God's creations live their lives and interact in our yard. When I told him my column this week would be about the tongue, Wes commented about how so often we think of "the tongue" as something that gets us into trouble, when in reality, our tongues were created to bring glory to God. And not just our tongues, but the tongues of the birds out side as well. Birds sing to attract mates, birds call to protect their territory or alert others in their flock of food or danger. And sometimes, birds just sing. The Bible tells us in Psalm 66:4 that all the earth worships God and sings praises to Him.
What's the first thing – in nature – that you hear when you wake up in the morning? Likely birds singing (or possibly dogs barking). If you're into whale watching, it's a fact that you're most likely to see whales at their most active and vocal first thing in the morning. As part of God's creation, we are also created to glorify Him with our lives and our voices – and that includes the words that leave our lips. The Westminster Catechism says that, "the chief end of man is to glorify God and to enjoy Him forever." That starts when we awake in the morning!
What prompted me to write about the power of the tongue this week was reading Psalm 141, where verse 3 says, "Set a watch, O LORD, before my mouth; keep the door of my lips." Many times throughout scripture, we are told of the perils of the tongue and how important it is to be mindful of our words and actions. You might think that guarding your tongue isn't of much significance, but even Jesus "held His peace." (Matthew 26:63). If Jesus knew the importance of guarding His tongue – especially right before He was crucified – we should also be mindful of His example.
Through scripture we read about the bad implications of the tongue, but we should also consider what the Bible says about the blessings that come when you guard your tongue and watch your words:
You will gain understanding. "Even a fool who keeps silent is considered wise; when he closes his lips, he is deemed intelligent." (Proverbs 17:28) Sometimes it can be so tempting to interrupt and get your two cents in before the person you're conversing with finishes their thought. Consider how the quality of our conversations would improve if only we would take the time to listen to the thoughts of others before responding. As it says in Proverbs 10:19, "When words are many, transgression is not lacking, but whoever restrains his lips is prudent." What you say reflects what's in your heart. When you listen rather than speak, you gain understanding.
You will have fewer regrets. "Whoever keeps his mouth and his tongue keeps himself out of trouble." (Proverbs 21:23) Like turning jelly back into powder or putting an egg back in its shell after it's been broken, once your words leave your lips, you can't take them back. This is a lesson we are all constantly learning. Our words have consequences. You may have heard the quote, "Our words are free; it's how we use them that may cost us." How true it is! Just remember the next time you're tempted that it's not necessary to react to everything you notice.
You will encourage others. "A gentle tongue is a tree of life." (Proverbs 15:4) Our words have the power to build others up, or to tear others down (Proverbs 15:1) – especially when we speak out of turn or talk about others behind their back. Proverbs 16:24 says that "gracious words are like a honeycomb, sweetness to the soul and health to the body." Knowing this, why not use your words and your tongue to edify others?
Isaiah 55:12 says, "For you shall go out in joy and be led forth in peace; the mountains and the hills before you shall break forth into singing, and all the trees of the field shall clap their hands." God's creation, even the trees of the field, have their own way of speaking. Before you let those words roll off your tongue, consider who you're directing the words at and the permanent impact that your words may have on the life of another.
Originally published as "Watching your words." Minto Express, Independent Plus, Arthur Enterprise-News, Mount Forest Confederate. August 10, 2017: 7. Print. Web.