Written by H, Posted in Christian Living, Encouragement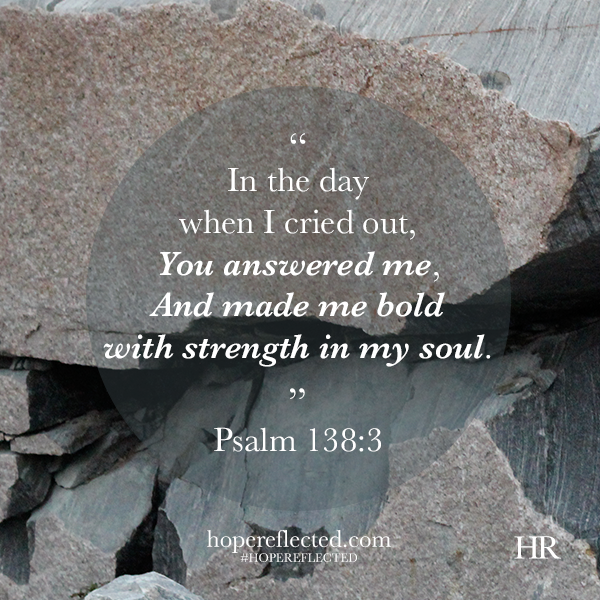 Psalm 138 is one of the most encouraging psalms. Written by David, a man after God's own heart, Psalm 138 is filled with some amazing truths.
"In the day when I cried out, You answered me, And made me bold with strength in my soul." Psalm 138:3
One of David's psalms, Psalm 138 is so encouraging and inspiring. It speaks of whole-hearted praise for God, worship of His Holiness, God's lovingkindness and truth, the power of God's Word, God's ways, and so much more.
Perhaps my favourite verse from this Psalm of praise is verse 3, when David says: "In the day when I cried out, You answered me, And made me bold with strength in my soul."
This verse tells me at least four facts:
God is always there for me, I just need to seek Him. "When I cried out…"
God's answers prayers. "You answered me…". It may not always how we think He will answer, or how we think He should answer, but God hears our prayers, and He answers our prayers. Thank you, Lord!
God makes me bold. "You…made me bold." We all know Proverbs 28:1, which tells us that "the righteous are bold as a lion". True boldness comes from Christ. D.L. Moody once said, "When we find a man meditating on the words of God, that man is full of boldness and is successful."
God provides strength for my soul. "…with strength in my soul." God is more than capable of bringing me through anything. I'm reminded me of one of the other encouraging psalms, with the incredible promise of Psalm 27:14: "Wait on the Lord: be of good courage, and he shall strengthen thine heart: wait, I say, on the Lord." God will provide the strength you need for whatever you're facing this week. Note it doesn't say that He'll remove the problem in front of you, but He will, HE WILL! provide the strength you need to come through it. Praise the Lord!
We serve an amazing God, and He longs to have a relationship with us, and to provide for us. If you're looking for examples God's goodness, check out any number of the encouraging psalms. Written by various authours who faced various challenges—and received various blessings—throughout their lives, the psalms are some of the most inspiring and incredible chapters of the Bible. All we need to do is cry out to Him! Wherever you are today, God is there for you, He will answer your prayers, He will make you bold, and He will provide you with strength for your soul! God is good!