Written by H, Posted in Christian Living, Published Work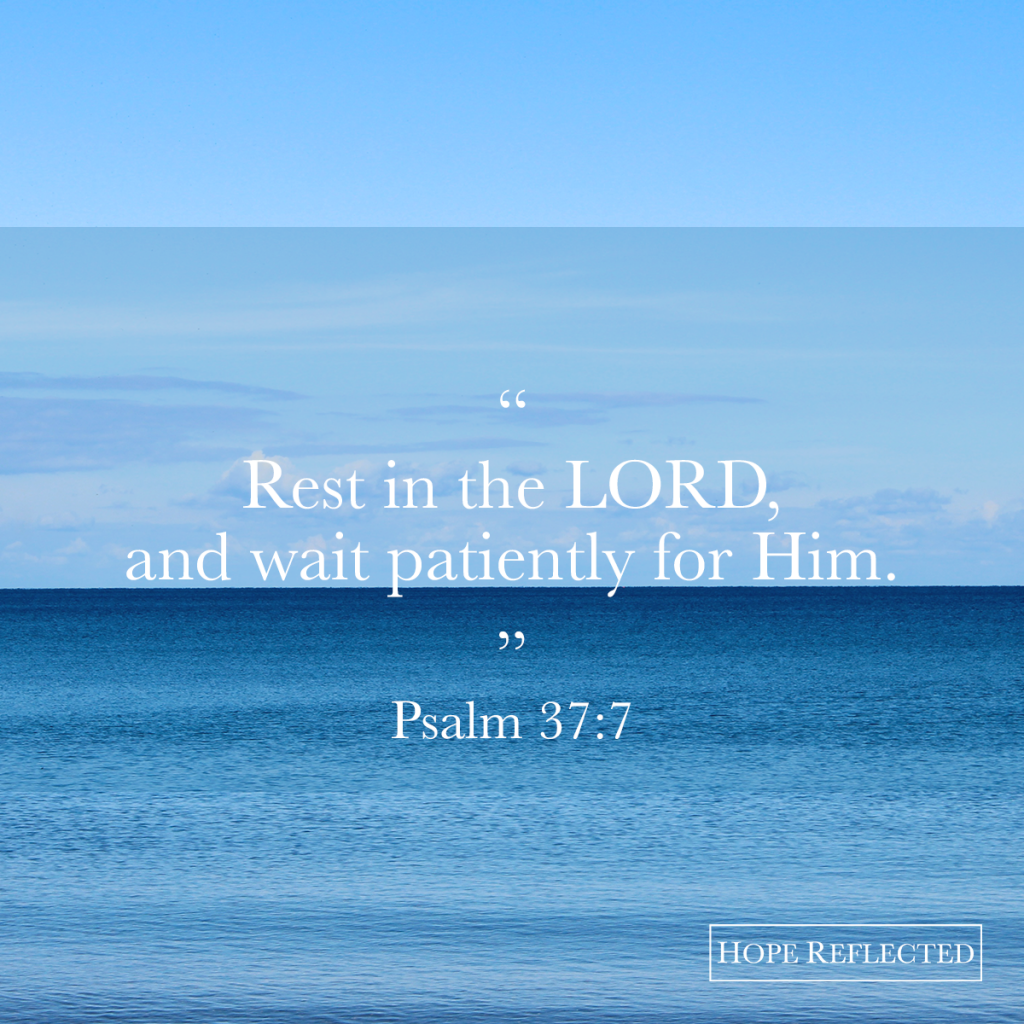 Rest
The past week has been a rather frustrating one for me. Vestibular neuritis – also known as vertigo – has been providing me with all the feelings of dizziness, imbalance, headache, earache, and nausea, and as a result I've been spending a majority of my time horizontal (including as I write this). If you've ever had vertigo, you understand the sensation I'm writing about. And just when you start to feel like you're getting over it, one sudden movement in the wrong direction sets you right back where you started.
Spending a week basically doing nothing but being still has afforded me with many hours to contemplate questions such as, "Why is this happening to me?" "What am I missing at work?" "Why does this have to happen right now?" "How long will this affect me?" and "What are you trying to tell me, God?" I asked Wes, my parents, and a couple of close friends the same questions, and interestingly enough, everyone said the same thing: "Maybe this is God's way of telling you that you need to rest."
Rest should be a natural part of our lives, but so often when we're running through the motions of life, admittedly, we forget to take time to rest. Rest in each other's company, rest in the company of those we love, rest in our home, rest in the miracles of God's creation like the roses blooming in our front yard, or the birds nesting in the trees across our property. The Roman poet Ovid said, "Take rest; a field that has rested gives a beautiful crop." We can't give our best or properly serve if we don't take time to rest.
This idea of rest brings to mind several Scripture references. It's interesting to note that depending which translation of the Bible you read, sometimes rest is referred to as "wait". To wait suggests that we need patience, and I'm not sure if that's fitting, ironic, or both.
Here are ten Bible verses about rest that I hope will encourage and reassure you as you learn patience and seek true rest:
"The LORD will fight for you; you need only to be still." Exodus 14:14
"Now then, stand still and see this great thing the LORD is about to do before your eyes!" 1 Samuel 12:16
"Rest in the LORD, and wait patiently for Him; do not fret because of him who prospers in his way." Psalm 37:7
"Yes, my soul, find rest in God; my hope comes from Him." Psalm 62:5
"You are my hiding place and my shield; I hope in Your word." Psalm 119:114
"Even to your old age, I am He, and even to gray hairs I will carry you! I have made, and I will bear; even I will carry, and will deliver you." Isaiah 46:4
– 9. "Come to Me, all you who labour and are heavy laden, and I will give you rest. Take My yoke upon you and learn from Me, for I am gentle and lowly in heart, and you will find rest for your souls. For My yoke is easy and My burden is light." Matthew 11:28-30
"Being confident of this very thing, that He who has begun a good work in you will complete it until the day of Jesus Christ." Philippians 1:6
Christ alone is able to give us rest in every area of our lives. As A.W. Tozer once said, "You can't truly rest until every area in your life rests in God." Once you've started, it's so easy to keep running that perhaps sometimes we just need a reminder to rest (free lesson in patience included).
Originally published as "Rest." Minto Express, Independent Plus, Arthur Enterprise-News, Mount Forest Confederate. June 15, 2017: 7. Print. Web.