Written by H, Posted in Christian Living, Encouragement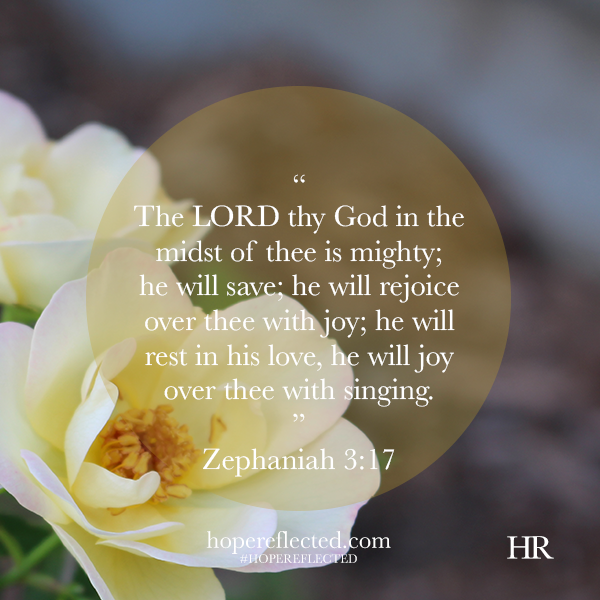 "The LORD thy God in the midst of thee is mighty; he will save, he will rejoice over thee with joy; he will rest in his love, he will joy over thee with singing." Zephaniah 3:17
Zephaniah 3:17 is an incredibly encouraging verse. If you're feeling down, or overwhelmed, or not sure how you're going to face the week ahead, check out the promises in Zephaniah 3:17. This verse is filled with God's truth and promises.
"The LORD thy God in the midst of thee is mighty…" — Not only are we promised that God is in our midst, we are also reassured in this verse that He is mighty! We can call on Him whenever, wherever, and for whatever, and He is right there with us. He's also mighty, meaning He's stronger than any challenge we may face.
"…he will save…" — Wherever you've been, whatever you've done, God is able to save you. He loves us so much that He sent His only Son to this earth to redeem us.
"…he will rejoice over thee with joy…" — I love how Barnes' Notes on the Bible describes this part of the verse: "Love, joy, peace in man are shadows of that which is in God, by whom they are created in man. Only in God they exist undivided, uncreated." Joy in us is something that comes from within – joy is not based on circumstances, it is based on our knowledge and love of Christ.
"…he will rest in his love…" — And because of that, we can rest in Him. Only in God can we truly find peace and rest. You may feel overwhelmed, or anxious, however remembering the love God has for you, and that He has His perfect timing, will help you find rest and renewal.
"…he will joy over thee with singing." — For the second time in this verse, we see the word joy. God delights in us; that should be enough to make us joyful! Singing can be used as an expression of joy. Think about that in context – God will joy over thee with singing. What an encouraging and inspiring thought!
"The LORD thy God in the midst of thee is mighty; he will save, he will rejoice over thee with joy; he will rest in his love, he will joy over thee with singing." Zephaniah 3:17