Written by H, Posted in Christian Living, Wednesday Wisdom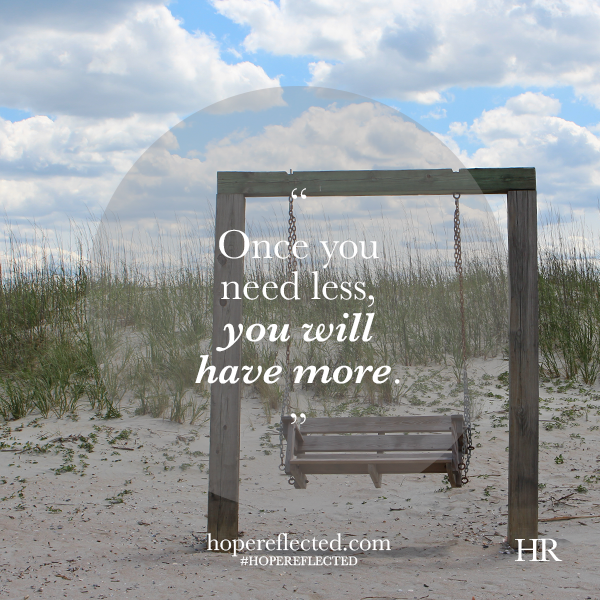 "Once you need less, you will have more."
You've probably heard the old saying, "Less is more," especially in reference to jewelry, makeup, and speech. Have you also taken time to consider the reality of this saying in our everyday lives? How much time do we spend running — from work, to church, to after-school sports, to extra-curricular activities — just running, from activity to activity, trying to appease and impress and fill our lives with… activity?
Since 2014, I've found myself struggling to slow down, to accept that it doesn't make me any less of a person — or what I'm doing any less important — just because I'm not "busy" all the time. Maybe it's because we're connected with all our mobile devices that we feel some kind of obligation to literally be, always connected.
What would happen if we all took to heart the saying, "Once you need less, you will have more"? Just think about it; think about all the areas in your life that you could simplify and make room for the people and things that truly matter.
Less "stuff" means: Less to store, less confusion, less to organize, less to clean in your house. Less "stuff" means: More space, more peace of mind, more order, and more to enjoy.
Less "activity" means: Less running, less tired, less out all night.
Less "activity" means: More stillness, more rest, more home with family and friends that truly matter.
Truly, there is beauty in simplicity. Take the time to slow down, I preach to the choir. But seriously, I'm challenging myself to live, "Once you need less, you will have more". I encourage you to do the same.
"Once you need less, you will have more."