Written by H, Posted in Christian Living, Published Work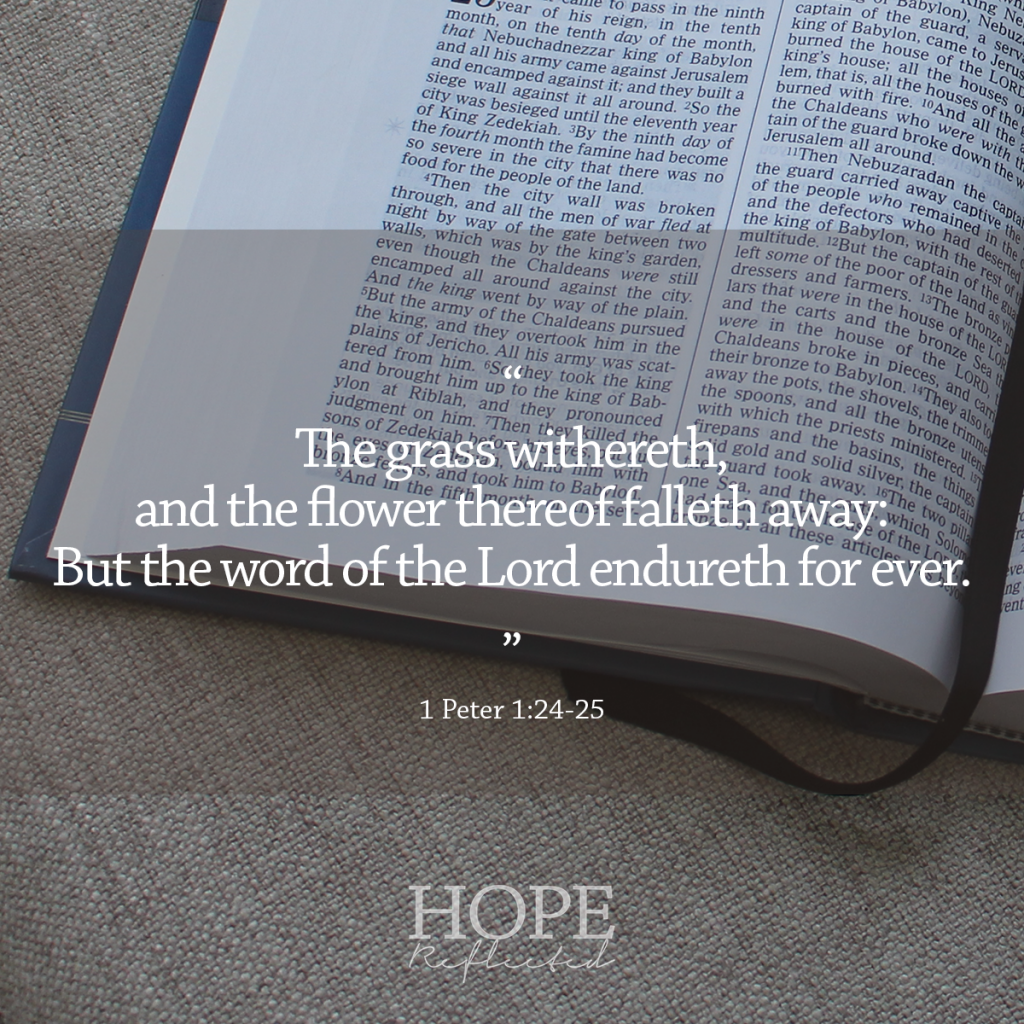 God's Word has the power to transform
"It is one thing to believe the Bible, but something else altogether to allow the Bible, through the ministry of the Holy Spirit, to impact and change your life," A.W. Tozer wrote.
"Thy righteousness is an everlasting righteousness, and thy law is the truth," David wrote in Psalm 119:142. Psalm 119 focuses on the greatness of God's Word. David went on to write in v. 160, "Thy word is true from the beginning: and every one of thy righteous judgments endureth for ever." Years later, Isaiah wrote, "The grass withereth, the flower fadeth; but the word of our God shall stand for ever." (40:8). Generations after that, Peter wrote, "all flesh is as grass, and all the glory of man as the flower of the grass. The grass withereth, and the flower thereof falleth away: But the word of the Lord endureth for ever. And this is the word which by the gospel is preached unto you." (1 Peter 1:24-25). The word of the Lord endures for ever. Generations will pass away, but His Word will remain relevant. Jesus Christ is the same yesterday, today, and forever (Hebrews 13:8).
God's Word Endures
Because the truth of God's Word endures, it is also trustworthy. The Psalmist wrote in Psalm 111:7-8, "The works of his hands are verity and judgment; all his commandments are sure. They stand fast for ever and ever, and are done in truth and uprightness." We can trust God's Word.
God's Word is a powerful tool
"The word of God is quick, and powerful, and sharper than any twoedged sword, piercing even to the dividing asunder of soul and spirit, and of the joints and marrow, and is a discerner of the thoughts and intents of the heart." (Heb. 4:12) God's Word has the power to convict us of our sin, and to strengthen us in our faith. David requested of the Lord in Psalm 51:10, "Create in me a clean heart, O God; and renew a right spirit within me." A clean heart comes when we confess our sins, confession of our sins comes after we're convicted of them, conviction comes through the Holy Spirit working in our conscience, and the Spirit can only work if we let Him. This is something that makes many people uncomfortable. They don't want to face their sin; they'd rather continue living in complacency.
Spending more time in God's Word
Paul wrote in Colossians 3:10 that we should "put on the new man, which is renewed in knowledge after the image of him that created him:" Knowledge can only be found through learning, and spending time in the Bible is the best way to learn about the One Who created you. Paul also wrote in 2 Timothy 3:16, "All scripture is given by inspiration of God, and is profitable for doctrine, for reproof, for correction, for instruction in righteousness:" We should make a point to spend more time with God. Carve out time to read and pray each day, and guard that time. Spend more time trying to understand God through His Word. God's Word has the power to transform.
Originally published as "The Power to Transform." Minto Express, Independent Plus, Arthur Enterprise-News, Mount Forest Confederate, Walkerton Herald-Times. December 5, 2019: 6. Print. Web.