Written by H, Posted in Christian Living, Encouragement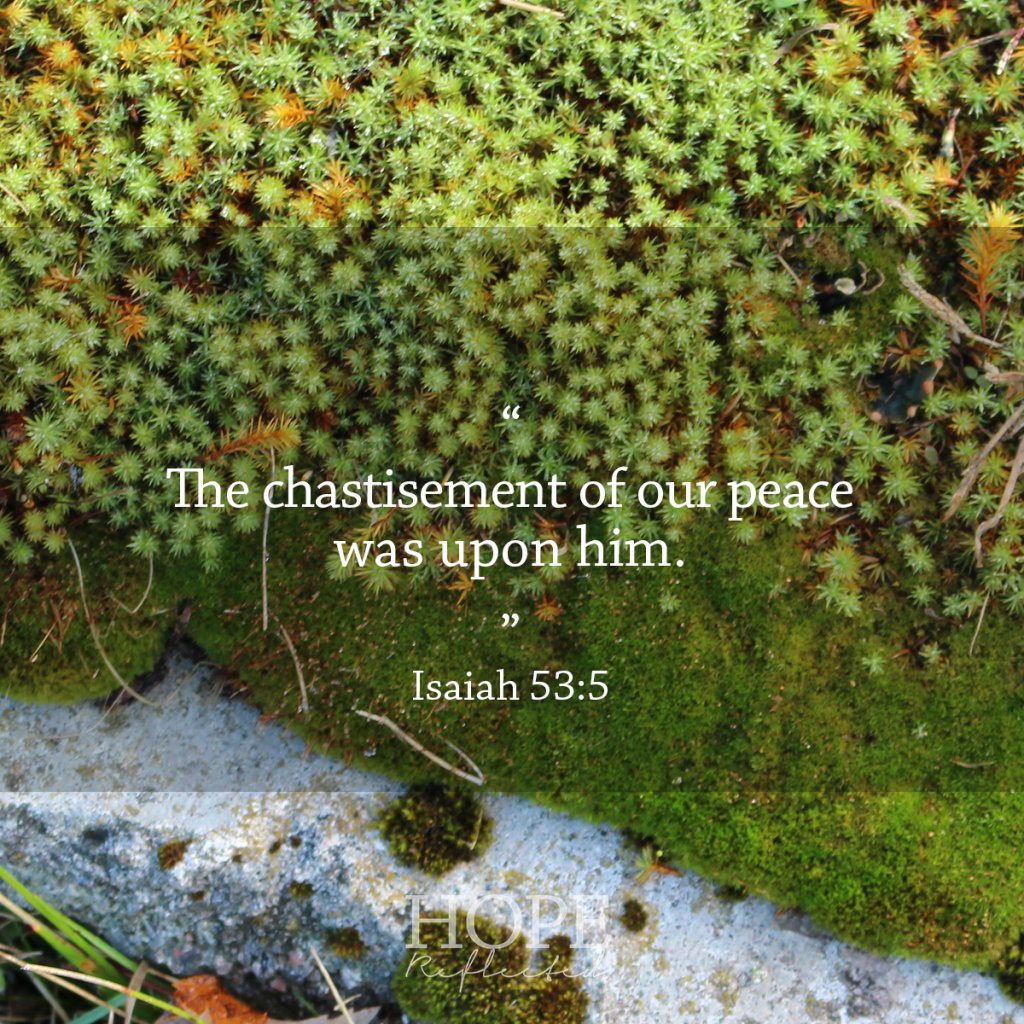 But he was wounded for our transgressions, he was bruised for our iniquities; the chastisement of our peace was upon him; and with his stripes we are healed. Isaiah 53:5
The first part of Isaiah 53:5 says, "But he was wounded for our transgressions, he was bruised for our iniquities;". Jesus carried the weight of our sin to the cross. Every sin, every transgression, and all of our iniquity — even the things that happened last week, and this week, or that will happen in the future — Christ bore it all on the cross. It's hard to fathom, isn't it?
Romans 4:25-5:1 puts it like this: "Who was delivered for our offences, and was raised again for our justification. Therefore being justified by faith, we have peace with God through our Lord Jesus Christ:".
Jesus went to the cross for all of our sins. But He didn't stay there!
Isaiah 53:5 continues on to say, "the chastisement of our peace was upon him; and with his stripes we are healed."
What is the chastisement of our peace? In his exposition of the Bible, John Gill explains the chastisement of our peace like this:
"the chastisement of our peace was upon him;
that is, the punishment of our sins was inflicted on him, whereby our peace and reconciliation with God was made by him; for chastisement here does not design the chastisement of a father, and in love, such as the Lord chastises his people with; but an act of vindictive justice, and in wrath, taking vengeance on our sins, of our surety, whereby divine wrath is appeased, justice is satisfied, and peace is made."
Christ didn't just go to the cross to die. He went there, carrying all of our sins, so that we might live and have eternal life and peace. I love how it's described in 1 Peter 2:24: "Who his own self bare our sins in his own body on the tree, that we, being dead to sins, should live unto righteousness: by whose stripes ye were healed."
Christ went to the cross so that we should live unto righteousness!
But he was wounded for our transgressions, he was bruised for our iniquities; the chastisement of our peace was upon him; and with his stripes we are healed. Isaiah 53:5