Written by H, Posted in Christian Living, Published Work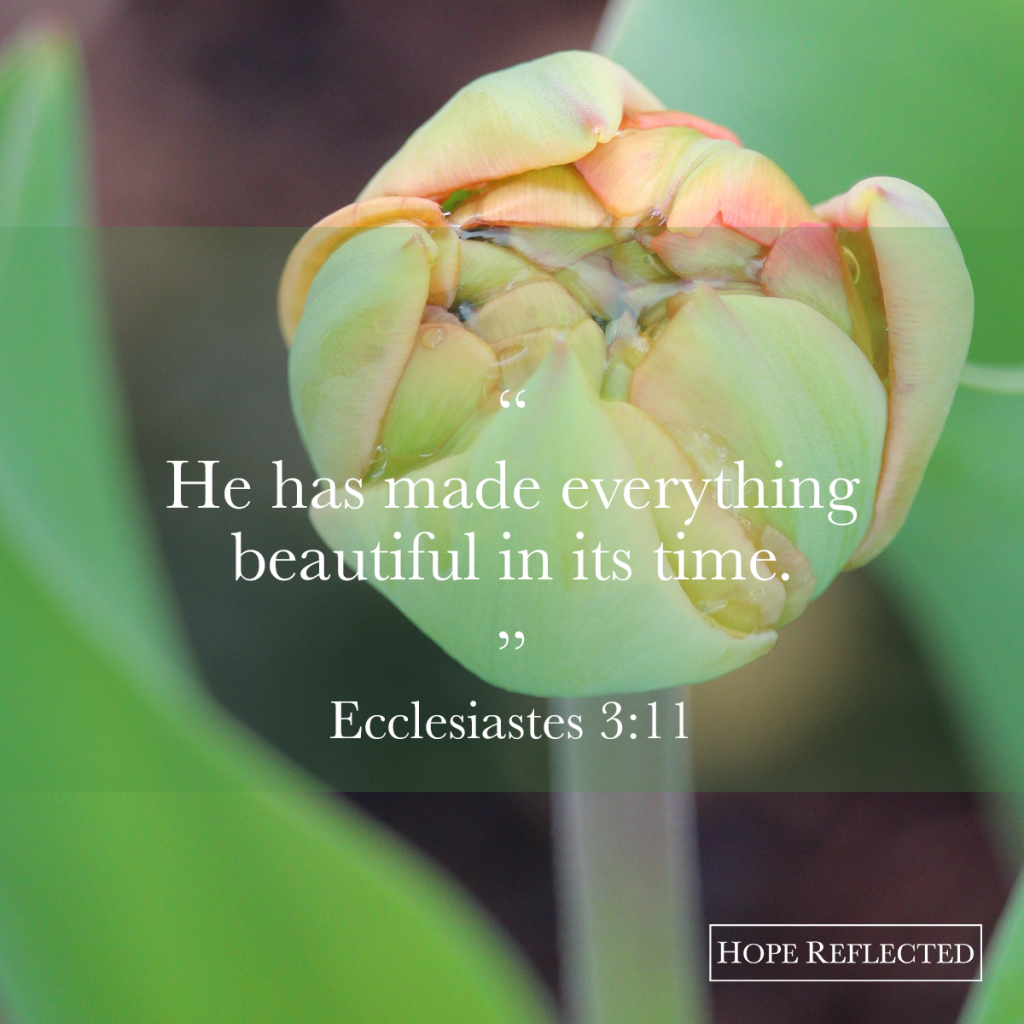 Timeliness
If you garden, you know that during the early days of Spring, it can prove a challenge to know the right timing for tasks that need to be completed. This year, I questioned the right time to trim back the rose bushes. Wes wondered about the ideal time to re-seed the lawn. Together, we're still debating where several annuals should be planted throughout the garden. Timing is everything.
The timing you're struggling with may not be related to gardening; maybe you're waiting to hear back about that job application, or perhaps you're waiting and wondering why you're single when it seems as though all your friends are getting married and starting a family, or maybe you're questioning the inconvenience of a recent health challenge.
Timing is everything.
There is a time for everything. "He has made everything beautiful in its time." (Ecclesiastes 3:11) Chances are that even if you haven't read the book of Ecclesiastes, you've likely heard the famous song by The Byrds called, "Turn! Turn! Turn!" where we hear that, "To everything (turn, turn, turn) there is a season (turn, turn, turn)," and it's true. There is a season and a time for everything. Happiness. Sadness. Love. Heartache. Health. Sickness. Life. Death. The important thing to remember is that God is in control, and it's God Who has a perfect timing for everything.
Sometimes (OK most of the time), our timing is not the best. "For my thoughts are not your thoughts, neither are your ways my ways, saith the LORD. For as the heavens are higher than the earth, so are my ways higher than your ways, and my thoughts than your thoughts." (Isaiah 55:8-9) Have you ever been held up in a traffic jam, feeling frustrated that you're going to be late? Or have you ever hesitated to make a decision, only to make your choice and find out that the house is off the market/tickets are sold out/position has been filled? We think we've got it all together, and we've got everything planned out perfectly (according to us) in our minds, however the reality often is that God's timing is not our timing (and written from experience, God's timing is ALWAYS the best).
Ultimately, our timing is in God's hands. "My times are in your hand." (Psalm 31:15a) Whether or not you're a Christian, God is in control. God is omniscient (read: He knows everything), and He makes no mistakes. That can be a hard truth to accept, especially when things aren't going the way I want them to. Frequently, I have to catch myself when things aren't going my way, and remind myself that God's timing is greater than anything I could ever imagine. Jesus Himself said in John 13:7, "What I am doing you do not understand now, but afterward you will understand."
We can trust in God's timing. "And we know that all things work together for good to those who love God, to those who are the called according to His purpose." (Romans 8:28) Trust can be difficult, especially if you've been hurt before, however when you have a relationship with Jesus Christ, He will never let you down. "The LORD is good to those who wait for him, to the soul who seeks him. It is good that one should wait quietly for the salvation of the LORD." (Lamentations 3:25-26)
God's timing is perfect. You may think you know the right time for everything, but remember what Elisabeth Elliot said: "God never denies us our heart's desire except to give us something better." If you're questioning the timing of something in your life, keep in mind that God frequently answers our prayers in one of three ways: With a "yes", with a "not yet", or with "I have something better in mind."
Originally published as "Timeliness." Minto Express, Independent Plus, Arthur Enterprise-News, Mount Forest Confederate. April 27, 2017: 7. Print. Web.